Powerful, Nontoxic Nickel-Zinc Batteries Eye Huge Market Opportunity
Powerful, Nontoxic Nickel-Zinc Batteries Eye Huge Market Opportunity

San Diego - September 17, 2008 - PowerGenix, manufacturer of nontoxic, high performance rechargeable Nickel-Zinc (NiZn) batteries, today announced the close of its $30 million Series D financing round. The round was led by Bessemer Venture Partners and included existing investors: Advent International, Angeleno Group, Braemar Energy Ventures, Granite Ventures, OnPoint Technologies and Technology Partners.
Amid a global restructuring of energy storage markets, propelled by increased concern over battery safety and toxicity and revived interest in automotive technologies, PowerGenix has seen huge demand for its nontoxic rechargeable NiZn batteries. The company has signed $75 million in customer supply agreements since beginning high-volume manufacturing in March of this year and is supplying NiZn cells into multiple markets including power tool, lawn and garden, consumer AA, military and light electric vehicles (LEV).
Targeting the global clean transportation and energy storage markets with a nontoxic, non-combustible and recyclable battery solution, PowerGenix's NiZn cells pack one-third more power and energy than existing rechargeable alkaline cells. The company's cells have also received compliance, under third-party testing, with the European Union's Reduction of Hazardous Materials (RoHS) and Battery Directive requirements, widely recognized as the world standard for banning toxic material in new electronic devices. In the United States, the Rechargeable Battery Recycling Corporation (RBRC), which represents 90 percent of the global battery industry, recently expanded its recycling program for the first time in seven years to include PowerGenix's NiZn — the most recyclable rechargeable chemistry on the market.
"PowerGenix's advanced Nickel-Zinc batteries provide more performance at a lower cost than any other energy storage option, allowing products used by millions of people every day to weigh less and have longer run-time," said Justin Label, partner at Bessemer Venture Partners. "PowerGenix has combined ground-breaking battery technology with targeted application engineering to produce products primed to capture significant market share as the energy storage industry moves toward clean solutions."
"With performance ideally suited for everything from rechargeable AA/AAA consumer batteries to next generation hybrid and electric vehicles, the unique size, weight and power attributes of Nickel-Zinc allow PowerGenix to penetrate multiple market segments," added Len Rand, managing director at Granite Ventures and PowerGenix board member. "Along with leading environmental and safety proof points, PowerGenix is positioned to transform the $10 billion rechargeable market."
"PowerGenix continues to expand long-term customer supply agreements with OEMs that recognize Nickel-Zinc's superior performance and safety. With high volume production in place and a capital efficient manufacturing model, this financing validates PowerGenix potential to build Nickel-Zinc into the next mainstream battery technology, and demonstrates our ability to quickly address demand across diverse market segments," explained Dan Squiller, CEO of PowerGenix.
About PowerGenix
PowerGenix has developed and patented a high-energy density, high-cycle life and cost effective Nickel-Zinc battery targeting the market for power intensive portable products and hybrid electric vehicles (HEVs). Specifically designed to utilize existing Nickel-Cadmium/Nickel Metal-Hydride manufacturing processes, techniques and equipment, PowerGenix offers the supply chain scaling and security OEMs require. With its patented rechargeable Nickel-Zinc battery technology, PowerGenix is pursuing applications to replace existing Nickel-Cadmium and Nickel Metal-Hydride batteries in the multi-billion dollar rechargeable battery market. www.powergenix.com
About Advent International
Founded in 1984, Advent International is one of the world's leading global private equity firms, with offices in 15 countries on four continents. A driving force in international private equity for more than two decades, Advent has built an unparalleled global platform of over 120 investment professionals across Western and Central Europe,
North America, Latin America and Asia. Since inception, Advent has raised $24 billion in private equity capital and completed more than 250 buyout and private equity transactions valued at over $40 billion in 40 countries. For more information, visit www.adventinternational.com
About Angeleno Group
Angeleno Group (AG) is a Los Angeles-based private equity firm focused on high-growth investments in the energy sector. AG makes investments broadly across the energy industry to support innovative, well-managed, rapidly growing companies. www.angelenogroup.com
About Bessemer Venture Partners
Bessemer Venture Partners is a global investment group with offices in Silicon Valley, Boston, New York, Bangalore, Mumbai, Beijing, and Tel Aviv. As the oldest venture capital practice in the United States, Bessemer has partnered as an active, hands-on investor in Ciena, Ingersoll Rand, Parametric, Skype, Staples, VeriSign and W.R. Grace and over 100 other companies that have gone public. To learn more, visit www.bvp.com
About Braemar Energy Ventures
Braemar Energy Ventures is a venture capital fund making early- to mid-stage investments in the energy technology sector. The firm's principals have invested in more than 50 companies in the sector and have significant technical, operational and financial experience in energy and energy-related industries. Through offices in New York and Boston, the firm targets a wide range of energy technologies that impact stationary power, transportation and portable energy applications. Additional information is available at www.braemarenergy.com
About Granite Ventures, LLC
Granite Ventures has been helping early-stage technology companies build solid foundations for success since 1992. Granite has managed over $1 billion in venture capital and has invested in more than 100 private companies. They partner with promising and successful entrepreneurs to create businesses that have a competitive edge, and help those businesses achieve category leadership. More information can be found at www.granitevc.com
About OnPoint Technologies, Inc.
OnPoint Technologies is a strategic early-stage venture investor with a mission to discover, invest in and support companies developing innovative technology at the intersection of the commercial and defense markets. For more information on OnPoint, please visit their website at www.onpoint.us
About Technology Partners
Technology Partners is a 24 year venture capital firm that has managed more than $750 million of investment capital with current investments being made from Technology Partners Fund VIII. The firm has invested in more than 100 companies in a variety of industries serving principally as a lead investor. The firm is regarded as one of the pioneering firms in Cleantech, having invested half its capital into Energy Technology, Water Technology, and Advanced Materials for many years - and the other half into Life Sciences. For more information on Technology Partners, go to www.technologypartners.com
Featured Product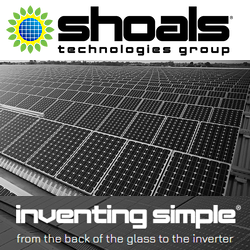 Inventing Simple® isn't just a slogan to us, it's a way of life. Using simple plug-and-play ideology, we revolutionized solar installations in 2003 with our Interconnect Systemâ"¢. Our harnessing system is now the gold standard EPC's use around the world. By using simple ideas, we are making solar energy a more affordable and clean power source for future generations.