Hospital, SPG Solar, Tioga Energy Lead the Way for Use of Solar Power in the Sutter Health System
Hospital, SPG Solar, Tioga Energy Lead the Way for Use of Solar Power in the Sutter Health System

Auburn, Calif. - October 6 - Sutter Auburn Faith Hospital today announced it will become the first healthcare facility within the Sutter Health system to install solar power. Sutter Auburn Faith has plans for a 736-kilowatt (kW DC) solar electric system that will meet about 50 percent of the hospital's power needs. SPG Solar, a leading California solar installer, will design and construct the system, which will include an elevated installation in the employee parking lot and a ground-mounted tracking system on the adjacent property. Sutter Auburn Faith has partnered with premier solar energy services provider Tioga Energy to remove all upfront costs and ongoing maintenance requirements for the solar power system.
Over the past few years we've been looking for innovative ways to strategically manage our energy and help the environment," said Mitch Hanna, Chief Administrative Officer, Sutter Auburn Faith Hospital. "As health care professionals it is important that we promote good health in the community and support a healthy environment as well."
Under the terms of a SurePath Solarsm Power Purchase Agreement (PPA), Tioga Energy will finance, own and operate the system, and Sutter Auburn Faith will simply purchase the power generated at predictable rates for the contract term. By entering into a third-party finance agreement with Tioga Energy, the hospital will benefit from immediate electricity savings and a long-term hedge against future electricity price volatility.
"By managing energy costs through a solar PPA, Sutter Auburn Faith is able to further focus its precious resources on the exceptional patient care for which it is well-known. The hospital has an important role to play in the health and happiness of the Auburn community, and we are proud to be supporting those efforts through a solar array that's as good for their energy bills as it is for the environment," said Paul Detering, CEO of Tioga Energy.
"We are proud to partner with Sutter Auburn Faith and Tioga Energy for this exciting project. Our system design provides the maximum energy output within the hospital's space constraints," said Steve McKenery, Vice President of Business Development for SPG Solar.
SPG Solar designed the solar system to provide the maximum energy output within the hospital's space constraints, including an elevated solar electricity system in the employee parking lot. Using proprietary technology from Thompson Technologies Inc. called SunSeeker®, SPG Solar will install the remaining solar panels as a ground-mounted array using a high-performance single axis tracking system that follows the sun throughout the day. By increasing the panels' direct exposure to the sun, the tracking design increases the amount of electricity that the system is able to generate from each square foot of land. The entire system will convert sunlight to electricity without any noise, pollution or greenhouse gas emissions.
The move to solar power is just part of a Sutter Health Sacramento Sierra Region initiative to go green. Several projects are under way at Sutter Auburn Faith Hospital and throughout the region to reduce waste, recycle and implement sustainable practices in every aspect of our daily operations. These include using biodegradable and recyclable dinnerware, recycling medical supplies and equipment and reprocessing medical devices.
"We will continue to look for opportunities to improve efficiency and achieve improved savings," said Hanna.
# # #
About Sutter Auburn Faith Hospital
Sutter Auburn Faith Hospital is an affiliate of Sutter Health, one of the nation's leading not-for-profit networks of community-based health care providers, delivering high-quality care in more than 100 Northern California communities. For more information on Sutter Auburn Faith, visit the web site at SutterAuburnFaith.org
About SPG Solar, Inc.
SPG Solar, Inc. is one of the industry's leading developers, designers, and installers of solar photovoltaic (PV) systems for large-scale commercial and government facilities as well as for businesses, schools and homes. Founded in 2001 in response to soaring energy prices, SPG Solar is committed to building the highest-performing solar PV systems with the greatest return on investment. SPG Solar has built over 1,200 solar PV systems with regional facilities located throughout the Western States. For more information, please visit: www.spgsolar.com.
About Tioga Energy
Tioga Energy enables commercial, government and non-profit organizations to reduce their energy costs while lowering carbon emissions. Through the SurePath Solarsm power purchase agreement (PPA), Tioga Energy owns and operates renewable energy systems that provide organizations a hedge against energy price volatility and accelerate their access to clean energy without any capital outlay. For more information call 877.333.9787 or visit: www.tiogaenergy.com.
Featured Product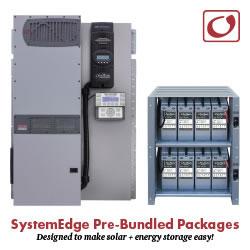 Each pre-bundled package is designed to make solar plus energy storage easy. By combining OutBack's most popular FLEXpower pre-wired systems with matched OutBack energy storage, SystemEdge takes the guesswork out of installing solar plus storage. Every SystemEdge package includes a FLEXpower factory pre-wired system, application-specific EnergyCell batteries and racking, FLEXware ICS Plus combiner and all the necessary connection hardware.