A Leading Provider of Solar Photovoltaic & Thermal Systems
MONTREAL, QUEBEC, CANADA - October 21, 2008 - ICP Solar Technologies Inc. (OTCBB: ICPR.OB, FRANKFURT: K1U.F), a developer, manufacturer and marketer of proprietary solar panels and products, today announced that it has entered into a binding Letter of Intent ("LOI") to acquire Ibersolar Energía, S.A., a leading European manufacturer and supplier of solar photovoltaic systems, solar thermal systems, and absorption units. The private company, established in 1999 and headquartered in Spain, has annualized sales of approximately €120 million and has been profitable since 2005. Ibersolar photovoltaic modules provide clean electrical energy for residential, commercial and industrial applications worldwide.

Under the terms of the LOI, ICP will acquire 100% of the shares of Ibersolar. The Parties agree and undertake to enter into a mutually agreeable definitive share purchase agreement and any other documents necessary for the acquisition within six weeks of the signing of the LOI, or as soon as practicable thereafter. In addition, the closing of the acquisition is contingent upon financing by ICP of a minimum of $15 million on terms acceptable to both parties. A financing plan (i.e., term sheet) must be arranged before December 15, 2008; additional terms are outlined in a Form 8K filed with the SEC. The new company structure after the acquisition, but before the financing, will be owned 20% by existing ICP shareholders and 80% by existing Ibersolar shareholders on a fully diluted basis.
"I am extremely pleased to announce the most important strategic decision in our company's history," said Sass Peress, Chairman and CEO of ICP Solar. "By acquiring Ibersolar, ICP will see a twenty-fold increase in the size of its business and automatically become a recognized player in the burgeoning European market. Ibersolar brings with it excellent solar applications, established R&D, strong supplier relationships, and a substantial customer base that spans commercial, industrial, and government entities across the continent. We expect to realize distribution synergies and cross-fertilization of product lines immediately - particularly with regard to our Sunsei Wireless Greenmeters - and the acquisition is anticipated to be accretive to earnings within the first year of operation. Ibersolar will also be able to leverage our proprietary solar rooftiles for applications in Europe and elsewhere.
"This is a game changer and one that we feel will bolster the company's long-term growth outlook and solidify our position in the solar sector. Upon completion of the merger, ICP will head into 2009 with a rapidly-expanding customer base, vast array of enticing solar products, and the technology to offer some of the most cost-efficient solutions to a world demanding clean, renewable energy."
Ibersolar Energía offers a wide range of PV modules, grid-connected and off-grid inverters, mounting systems, solar trackers and monitoring equipment, as well as complete solar thermal systems, including high performance collectors, solar boilers, controllers, and thermal siphons. The company has developed a roof system which integrates flexible amorphous silicon modules with waterproof membrane solutions, providing the highest guarantee of impermeability in a roof while achieving maximum energy production from the photovoltaic modules. Additional information may be found at www.ibersolar.com.
About ICP Solar Technologies, Inc:
ICP Solar is a developer, manufacturer and marketer of solar panels, solar cell based products, solar monitoring software and solar power management solutions. Through the application of its own intellectual property and next-generation technologies, the Company aims to be the solar industry's innovation leader. For the past 20 years, ICP Solar has been a lead innovator in the consumer solar market and has now begun to apply that same innovation philosophy to the OEM, rooftop and power generation segment of the solar industry. ICP Solar's management has over 50 years of experience in the renewable energy sector. ICP Solar markets its products under its Sunsei brand of solar products and is the North American licensee of the Coleman(R) brand in the solar charger category. ICP Solar is also helping the environment by offering these solar technologies and green solutions to the renewable energy sector. The company's headquarters are located in Montreal, Canada, with an R&D center in St. John's Canada and additional locations in the USA, Ireland, France and the UK. Additional information may be found at www.icpsolar.com
ICP Solar Technologies Inc.
Sass Peress, Chief Executive Officer
514-270-5770
Investor Relations:
Chris Witty
cwitty@darrowir.com
646-438-9385
Public Relations:
Laurent Lafite, 514-270-5770
Llafite@icpsolar.com
This release may contain forward-looking statements. Often, but not always, forward-looking statements can be identified by the use of words such as "expects," "plans," "estimates," "intends," "believes," "could," "might," "will" or variations of such words and phrases. Forward-looking statements involve known and unknown risks, uncertainties, and other factors which may cause the actual results, performance, or achievements of ICP Solar Technologies Inc. to be materially different from any future results, performance, or achievements expressed or implied by the forward-looking statements. These statements are based on management's current expectations and beliefs and are subject to a number of risks and uncertainties which are described under the caption "Note Regarding Forward-looking Statements" and "Key Information - Risk Factors" and elsewhere in ICP Solar Technologies Inc.'s Annual Report for the fiscal year ended January 31,2008, as filed on EDGAR at www.sec.gov. The risk factors identified in ICP Solar Technologies Inc. Annual Report are not intended to represent a complete list of factors that could affect ICP Solar Technologies Inc. Accordingly, readers should not place undue reliance on forward-looking statements. ICP Solar Technologies Inc. does not assume any obligation to update the forward-looking information contained in this press release.
Featured Product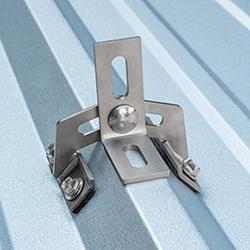 QuickBOLT Low Profile QuickBOLT with Microflashing™ is the industry's affordable, UL Certified Asphalt Shingle mounting system. The Microflashing™ is compressed by the collar on the bolt to create a water-tight seal. With an installation time of less than one minute, the Low Profile QuickBOLT allows installers to complete more jobs.