"We may be at 30 percent module efficiency by the end of 2009": Sol3g
CPVToday.com Special

The current technology of the crystalline silicon panel does not allow the photovoltaic generation to reach competitive prices of electrical generation due to the great amount of silicon needed and to its shortage of supplies of electronic or solar quality. Considering this, Sol3g, set up in 2004, introduced a totally new product that reduces the cost of photovoltaic conversion to half.
The company has already commercialised its HCPV technology at national as well as at the international level.
A major milestone for the company this year has been putting up a factory and industrial process.
"This year we have manufactured about 1,5 MWp of HCPV modules. We have developed the whole process and the necessary machinery, including characterisation systems, by ourselves. We think we have achieved an important competitive edge," Ricard Pardell, president and R&D director, Sol3g told CPVToday.com.
The plans of the company to increase the production capacity up to 10 Mw/year by the end of this year has already been accomplished, according to Pardell, who is scheduled to speak during CPV Summit USA 2009 (scheduled to take place on February 3-4 in San Diego).
The HCPV approach has the potential to deliver the highest efficiency. If >30 percent system efficiency is achieved, this may be a useful driver for some applications.
"Now we provide around 24 percent eff. modules. With improvements in cells and optics expected during next year, we may be at 30 percent module efficiency by the end of 2009," shared Pardell.
Sol3g HCPV systems are thought to be used in solar farm type installations, offering applications of 1 and 4 kWp; using either FEiNA SC4 (1 kWp system) or SC16 (4 kWp system) solar trackers, adapted to the photovoltaic concentration technology. The company says it is able to scale the size of the HCPV system to its clients' needs.
In an interview with CPVToday.com, Pardell also spoke about HCPV vs LCPV battle, Sol3g HCPV systems and much more. Excerpts:
CPVToday.com: Considering LCPV and HCPV debate (where proponents of LCPV say that the HCPV hypothesis is a flawed one. Not only does it not yet deliver commercially - a product of high cell costs and high system costs to achieve required accuracies - but it creates a range of technical problems that are both difficult (and expensive) to solve), how do you assess this battle?
Ricard Pardell: I am sorry for the low concentration defenders, but for us there is really no question. Multi-junction cells have very high efficiencies but their unit cost requires high concentration (we have 476 suns in our modules) in order to have a competitive solution.
Lets say that low concentration has the worst of two worlds, instead of being the best compromise, as some people may think. For instance, if we would use low concentration ratios using the same kind of materials we use (commodity PMMA and aluminum sheet), the material and assembly module costs would be more or less the same, except for the cells, but those don't contribute very much as their size is so small. To give an idea, presently the cell cost is just 18% of our module cost. I am quite sure a low concentration silicium cell based approach would yield a similar cost module but with much lower efficiency. This is what I can say after my knowledge on the application.
CPVToday.com: Your company says Sol3g HCPV systems are thought to be used in solar farm type installations, offering applications of 1 and 4 kWp; using either FEiNA SC4 (1 kWp system) or SC16 (4 kWp system) solar trackers, adapted to the photovoltaic concentration technology. Thanks to our technology, we are able to scale the size of the HCPV system to our clients' needs. Can you expand on how do you manage this scaling up?
Ricard Pardell: Scaling up is done by just multiplying the number of systems. A plant can be from 1 kWp to as many MWp as desired.
CPVToday.com: Can you provide an insight into how much does this technology actually cost? How realistic are PPA promises and how can you mitigate risk if CPV's value is ambiguous?
Ricard Pardell: Presently, our production cost is still not in its minimum, as it will be when we achieve a larger capacity. A realistic 1 €/Wp manufacturing cost can be achieved within two years time. Our materials costs are now below 0,5 €/Wp for our M40 modules, except for the cells, so its a matter of manufacturing process automation and optimization, and cell pricing reduction.
Its basically a matter of time and increasing volume.
CPVToday.com: About CPV, it is said that it will be a huge challenge for the industry as a whole as it includes a monumental increase in field deployment capability, manufacturing capability, supply chain, etc. At the same time extensive reliability and some R&D work will continue. There are some analysts who have predicted consolidation of suppliers. How do you assess all this going forward?
Ricard Pardell: I think there is still a lot to do, particularly at the system level. I see that some module designs must be competitive, but some people hasn't taken enough care about the tracking systems. Trackers must be below 0,5 €/Wp in order for HCPV to be really competitive, and in order to do so, new tracker concepts need to be developed.
CPV Summit 2009, San Diego
CPV Summit 2009 is scheduled to take place in San Diego (February 3-4, 2009). For more information, click here:
http://www.cpvtoday.com/usa/programme.shtml
or Contact: Joshua Bull by email josh@cpvtoday.com
==
Featured Product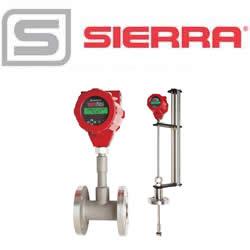 Sierra was the first to introduce a combination volumetric vortex and multivariable mass flow meter in 1997. Today, Sierra's completely redesigned InnovaMass® iSeries™ 240i/241i builds on two decades of success measuring five process variables for gas, liquid and steam with one connection. Now, with the latest hyper-fast microprocessors, robust software applications, field diagnostic and adjustment capability, and a new state-of-the-art flow calibration facility, Sierra's vortex iSeries delivers precision, performance, and application flexibility never before possible.