Xantrex Technology Inc., a subsidiary of Schneider Electric, announces it was awarded contracts from enXco Inc., an EDF Energies Nouvelles Company, valued at approximately US$1.5 million.
VANCOUVER, B.C., November 12, 2008 - Xantrex Technology Inc., a subsidiary of Schneider Electric, announces it was awarded contracts from enXco Inc., an EDF Energies Nouvelles Company, valued at approximately US$1.5 million. Under the contracts, Xantrex will supply commercial three-phase solar inverters for two large-scale projects in California and New Jersey.

"We are impressed with enXco's projects, and we are proud to supply the inverters for these large-scale installations," said Nazir Mulji, Xantrex General Manager.
The Xantrex GT250 commercial solar inverters selected for the enXco projects efficiently convert direct current (DC) energy collected by solar modules into high quality alternating current (AC) electricity for delivery to the power grid. Xantrex solar inverters offer high quality, performance, efficiency, reliability, value, ease of installation, and high power density; making them the preferred choice for an increasing number of projects around the world.
"We chose Xantrex inverters for these large installations because of the efficiency and high voltage of the commercial units," said Tristan Grimbert, President and CEO of enXco. "We believe Xantrex's high quality products combined with enXco's expertise in project design, development and management will result in energy efficient and cost effective solar energy systems at each of the project sites."
About Xantrex
Xantrex Technology Inc. (www.xantrex.com), a subsidiary of Schneider Electric, is a world leader in the development, manufacturing and marketing of advanced power electronic products and systems for the renewable and mobile power markets. The company's products convert and control raw electrical power from any central, distributed, renewable, or backup power source into high-quality power required by electronic equipment and the electricity grid. Xantrex is headquartered in Vancouver, Canada, with facilities in the United States, Germany, Spain, and a joint venture in China.
About Schneider Electric
As a global specialist in energy management with operations in more than 100 countries, Schneider Electric offers integrated solutions across multiple market segments, including leadership positions in energy and infrastructure, industrial processes, building automation, and data centres/networks, as well as a broad presence in residential applications. Focused on making energy safe, reliable, and efficient, the company's 120,000 employees achieved sales of more than 17.3 billion euros in 2007, through an active commitment to help individuals and organisations "Make the most of their energy.TM"
www.schneider-electric.com
About enXco, an EDF-EN Company
enXco, Inc. (www.enxco.com) an EDF-EN Company (www.edf-energies.nouvelles.com) develops, constructs, operates and manages renewable energy projects throughout the United States. For more than two decades, enXco has been a leader in wind-energy focusing on large-scale wind projects. Today enXco's portfolio includes solar and biomass technologies, in an effort to help drive the nation's transition to a sustainable energy economy. enXco is a significant owner and developer of wind-energy installations in the United States, and is the largest third-party operations and maintenance provider for wind farms in North America.
Xantrex and Smart choice for power are trademarks of Schneider Electric Services International sprl, registered in the United States and other countries.
For further information, please contact:
Xantrex Technology Inc.:
Media Relations
604-422-2589
mediarelations@xantrex.com
enXco, Inc.:
Sandra G. Briner
Marketing Manager, enXco
(760) 740-7022 ext. 140
sandib@enXco.com
Featured Product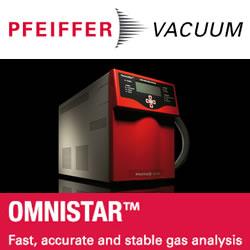 The Pfeiffer Vacuum OmniStar benchtop analysis system offers you a compact footprint, powerful software and Ethernet connectivity. It's the optimum solution for many real-time gas analysis applications. With the OmniStar, Pfeiffer Vacuum offers you a complete solution for gas analysis, in chemical processes, semiconductor industry, metallurgy, fermentation, catalysis, laser technology and environmental analysis. The turnkey OmniStar gas analysis system consists of heated, temperature-regulated gas inlet system, Quadrupole mass spectrometer, a dry diaphragm vacuum pump and HiPace turbopump. Unlike competing methods such as FTIR, OmniStar is suitable for qualitative and quantitative analysis of most gases.