TAC is now offering the a LEED Accredited Professional Training Program to qualified partners. The program is an outgrowth of TAC's commitment to developing talent in energy efficiency and green design.
TAC, a world leader in building automation, security systems and energy services, is offering the TAC LEED® Accredited Professional (AP) Training Program to qualified partners. Leadership in Energy and Environmental Design (LEED) accreditation distinguishes building professionals who have demonstrated a thorough understanding of green building practices and the LEED Green Building Rating System developed by the U.S. Green Building Council (USGBC).

"The TAC LEED AP Training Program is a natural outgrowth of our commitment to energy efficiency and green design," said Jeff Drees, president of TAC Americas. "For example, TAC helps our clients improve energy efficiency and operations through integrated building solutions and performance contracting. In addition, TAC and its parent company, Schneider Electric, are members of the Clinton Climate Initiative, a global effort to improve energy efficiency in cities around the world. Our employees are dedicated to sustainability, and many are already LEED APs."
LEED APs use their knowledge of the LEED Rating System and its application to integrate environmentally sustainable design features into projects and streamline the LEED certification process. To qualify as a LEED-certified facility, new or existing buildings must score points based on items such as site sustainability, water efficiency, optimizing energy performance, maintaining a healthy indoor environment and using renewable resources, among others.
"Pursuing LEED certification is not only good for the environment, it makes great business sense for building owners as well," said Lee Ginn, president of EMCOR Services Integrated Solutions -- an authorized TAC partner. "Businesses that embrace sustainability and environmental stewardship outperform their competitors financially because customers are more willing to support these businesses when given the opportunity."
Ginn continues: "We are now seeing building owners and others in the building and construction industries embracing LEED as a method to document their commitment to green practices. Being green, however, isn't always simple, because there are different rules and many choices to consider. Through the LEED AP program, TAC is developing a staff of professionals ready to guide our customers as they implement building projects designed to save energy and preserve global resources."
The average building uses 20 percent more energy than it needs, according to Ginn. "TAC's commitment to LEED and energy efficiency further enables us to assist our customers in improving the energy efficiency of their buildings and to become efficient energy managers," he said. "As more buildings in a community start to save that 20 percent, or more, less pollution is produced, fewer greenhouse gasses are emitted and the environment is better for all of us."
"Our partners are a key component of TAC's success, and the LEED AP Training initiative is an example of the resources we make available to support them," said Robert Klein, vice president, Partners, for TAC. "Through programs like this, our partners gain additional knowledge and expertise that they in turn use in the field to provide the best solutions for our customers."
"As a global leader in environmental control, TAC is uniquely positioned to help building owners design and implement realistic green building strategies that make sense for their business," said Drees. "Every day, TAC assists building owners to comply with regulations and identify opportunities to optimize the environmental performance, cost-effectiveness, and overall healthiness of their buildings."
The TAC LEED AP program is only available to TAC partners who are exclusively representing TAC's building automation solutions. For qualified participants, TAC will cover all the necessary fees and provide study materials, including a step-by-step guide to help participants prepare for and pass the LEED AP exam.
Featured Product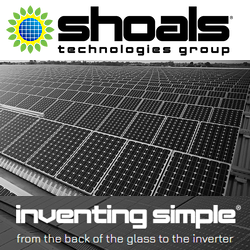 Inventing Simple® isn't just a slogan to us, it's a way of life. Using simple plug-and-play ideology, we revolutionized solar installations in 2003 with our Interconnect System™. Our harnessing system is now the gold standard EPC's use around the world. By using simple ideas, we are making solar energy a more affordable and clean power source for future generations.