Mariani Packing Company adds 1.1 megawatt solar power system operational at its Vacaville, Calif., headquarters.
FOR IMMEDIATE RELEASE

Contact: Kelli Pippin
E-mail: Kelli.pippin@grosolar.com
PH: 802.359.6585
**Photos available**
groSolar Helps Fruit Packing Company Add the Sun to its Lineup of "Harvested" Products
Vacaville, Calif. (Dec. 2, 2008) - For more than a hundred years the Mariani Packing Company has relied on the sun to nurture the plums, apricots, blueberries, apples and other fruit that made its products popular on grocery shelves throughout the world. But with a newly constructed 1.1 megawatt solar power system operational at its Vacaville, Calif., headquarters, the company now uses the sun to produce a different type of product; electricity.
The solar power project, a partnership between Mariani, groSolar, and SunEdison celebrated its activation today with a "flipping the switch" ceremony. Guests and speakers included company officials, solar power advocates and Vacaville Mayor Len Augustine.
Besides the positive impact it will have on the environment, the project is particularly notable for what Mariani paid to construct the system; zero. The partnership efforts of groSolar and SunEdison constructed and financed the system at no cost to Mariani. Under a long-term solar power services agreement, SunEdison will maintain the system and sell the electricity produced by it to Mariani at costs less than retail rates for traditional energy sources.
"This is a great example of how being environmentally sensitive can also be financially beneficial," said Frank Griffin, Vice President of Construction for groSolar, the company that designed and constructed the project. "This type of project is helping to verify the truth that doing something good for the environment is also good for the corporate bottom line."
Located on seven acres and comprised of more than 5,800 photovoltaic (PV) panels, the system will produce 1.9 million kilowatt hours of electricity per year. Over 20 years, the system will produce enough electricity to power 3,230 homes per year and offset more than 30 million pounds of carbon dioxide that otherwise would have been emitted by producing electricity from fossil fuel sources.
Besides the involvement of SunEdison and groSolar, the project also featured cutting-edge products and services from many of the solar power industry's top companies. MP2 Capital was instrumental in creating and developing the project, and Evergreen Solar's highly efficient PV panels, Thompson Technology Industries' innovative sun tracking systems and SMA's industry-leading solar inverters were all used on the state-of-the-art project. Construction began in August of this year and was completed in early November.
About groSolar
groSolar North America's premier provider of solar energy solutions focused on designing, distributing and installing high quality solar electric and solar hot water systems. groSolar provides residential installation in the northeast and mid-Atlantic states, and commercial installation in California as well as the eastern US, serving other areas through an extensive dealer network. With a system of warehouses across the continent, groSolar has the broadest distribution capabilities of any solar provider. Learn more at groSolar.com
About Mariani Packing Company
Mariani Packing Company offers a complete line of premium quality dried fruits and fruit ingredient products for the retail, foodservice and industrial markets. The product assortment includes dried plums, raisins, apricots, cherries, blueberries, cranberries, apples, and an array of tropical and mixed dried fruits. Mariani products can be found in national brand breakfast cereals and as a base for sauces and marinades. Founded by Paul Mariani, Sr., a pioneer and leader in the dried fruit industry, this fourth generation, family-owned company celebrated its centennial anniversary in 2006. Mariani procures, grows, dries, processes and packages premium dried fruits for more than 50 countries around the world. Mariani Packing Company is headquartered in Vacaville, California. www.MarianiFruit.com
About MP2 Capital
MP2 Capital, LLC is a leading renewable energy firm focused on financing, developing and investing in distributed generation and large-scale electricity generation assets in the North American and European markets. The Firm works with a wide range of commercial and government customers, utilities, load servicing entities and energy merchants. Founded in 2006, the Firm has built upon our principals' distinguished records in project finance, structured finance, investment banking and investment management. The Firm maintains offices in Marin County and New York. www.mp2capital.com
About SMA
SMA America, Inc. is the U.S. subsidiary of SMA Solar Technology AG, based in Germany. With over three gigawatts installed, SMA is the world leader in solar inverter technology and manufacturing with divisions in nine countries on four continents. SMA is committed to its leadership role, offering exceptional value with the most efficient and reliable solar inverters in the industry. SMA takes special pride in promoting renewable energy solutions at all levels, through education, information and support for the general public, solar installers as well as small and large businesses worldwide. www.sma-america.com
About TTI
Thompson Technology Industries, Inc. (TTI) is a world leader in the design and manufacturing of innovative solar photovoltaic (PV) products. Founded by experienced solar integrators and installers, TTI develops and builds its products for ease of use, elegance in design, and quality and longevity in performance. From the high-performance SunSeeker' Single-Axis Tracker to the clever and innovative Flat Jack® roof mount, TTI offers the latest tracking technology and the most dependable mounting systems for solar photovoltaic installations. By offering fresh, innovative solutions, including the Floatovoltaic' floating PV system, TTI is moving renewable energy forward. Companies worldwide rely on TTI's products which are designed to the highest manufacturing standards in the world, field-tested and include best of breed technologies. All are patent pending. For more information, visit www.thompsontec.com.
About SunEdison
SunEdison LLC is North America's largest solar energy services provider and operates across a global marketplace. SunEdison provides solar-generated energy at or below current retail utility rates to a broad and diverse client base of commercial, municipal and utility customers. For more information about SunEdison, please visit www.sunedison.com.
# # #
Featured Product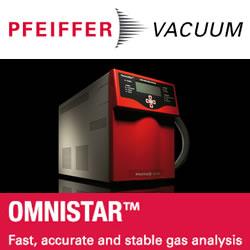 The Pfeiffer Vacuum OmniStar benchtop analysis system offers you a compact footprint, powerful software and Ethernet connectivity. It's the optimum solution for many real-time gas analysis applications. With the OmniStar, Pfeiffer Vacuum offers you a complete solution for gas analysis, in chemical processes, semiconductor industry, metallurgy, fermentation, catalysis, laser technology and environmental analysis. The turnkey OmniStar gas analysis system consists of heated, temperature-regulated gas inlet system, Quadrupole mass spectrometer, a dry diaphragm vacuum pump and HiPace turbopump. Unlike competing methods such as FTIR, OmniStar is suitable for qualitative and quantitative analysis of most gases.