Stuttgart Leading Trade Fair CEP® CLEAN ENERGY POWER goes into round 2
Stuttgart Leading Trade Fair CEP® CLEAN ENERGY POWER goes into round 2

One third of energy consumption is accounted for by the heating of buildings and water. This means 23 Million tons of carbon dioxide emissions a year by Baden-Wuerttemberg alone. Which would mean a savings potential in public building inventory from up to 80%?
Municipalities as responsible bodies for public buildings such as schools, swimming pools and administrative buildings are offered good opportunities to lower energy consumption, CO-2 emissions and to bring relief to public spending. New energy concepts and more energy efficiency are more and more becoming political challenges on a municipal level. But the citizens as private consumers are also demanding more support from the public authorities.
Citizens are asking for more support from the Municipalities and public authorities on questions concerning the Energy Emissions provision (Energy Emissionsverordnung EnEV) as well as the amendment to the Renewable Energy Heating Act (Erneuerbare Energien Wärmegesetz). With questions concerning financing or the legal and technical requirements for a conversion as well as to the application for funds, municipalities are increasingly dependent on efficient networks.
The collaboration between municipalities, energy advisors, manufacturers, engineers and architects on heat insulation, heating, ventilation and financing is an important part of a successful municipal energy management and the success of advisory work. Conditions here for are up to date information, regular exchanges of experience and the intensive correspondence to research, trade and neighbouring disciplines.
These experienced and first-class experts from the corresponding fields are therefore meeting in 2009 for the second time from January 29th to 31st 2008 at CEP® CLEAN ENERGY POWER.
The Stuttgart leading trade fair offers municipalities, manufacturers and consumers important impulses and contacts. Responsible for this success is particularly the good networking done by institutions such as the Baden-Württembergische Handwerkstag, Gebäudeenergieberater, Handwerker e.V. (Association of Energy advisors for Buildings and Manufacturers) and the Baden-Wuerttemberg Ministries for Economics, Environment as well as Nutrition and Rural Areas. Prime Minister Günther H. Oettinger has once more confirmed his participation as patron.
At CEP® CLEAN ENERGY POWER 2009 visitors can inform themselves on the whole spectrum of renewable energies and energy efficient construction and renovation. The spectrum reaches from photovoltaic and solar thermal energy over geothermal energy, heat pumps, co-generation, biomass, stirling, heating with wood to energy services. Around one fourth of the trade fair area will be occupied by the subject Passive house, which is also the main focus of the trade fair. In cooperation with the "Pro Passive House" initiative which was especially founded for this event, there will be a highlighted trade fair area with numerous activities all about Passive house.
Featured Product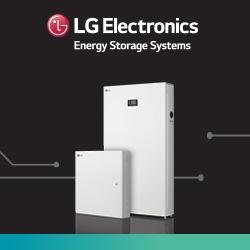 LG Solar is transforming today's solar landscape, offering precision-manufactured and high-efficiency solar panels for homeowners who demand high performance, reliability and consistently strong energy yield from a brand they can trust. LG modules feature outstanding durability, appealing aesthetics and high-efficiency technology, backed by a limited 25-year product, performance and labor (up to $450) warranty. Homeowners who purchase LG Solar modules know they're protected by a diversified global brand.