Italian company will provide ORC turbine for new plant in Great Britain realized by LandEnergy
Brescia (Italy), 10 December 2008 - Turboden will be first company to realize power generating turbine using Organic Rankine Cycle (ORC) technology in UK. The turbine will be at the heart of a wood fired combined heat and power (CHP) plant to supply energy to one of LandEnergy's wood pellet production factories.

Turboden Srl. is an Italian company, with more than 20 years experience designing, manufacturing, bringing to market and maintaining Organic Rankine Cycle (ORC) turbogenerators for the generation of heat and electrical power from renewable sources - including solar energy, biomass, geothermal and waste heat. Turboden was founded in 1980 by Mario Gaia, Professor of Energy at the Polytechnic of Milan, in order to complete the work of a research team he had headed up for some ten years, looking at ORC technology and thermo-fluid dynamic design.
The principle of Turboden ORC technology is similar to a traditional steam turbine with one principle difference. Instead of water vapor, the ORC system vaporises an organic fluid, offering superior electric performance and several mechanical advantages: slower rotation of the turbine, lower pressure and no erosion of the metallic parts and blades. The ORC unit is pre-assembled on one or more skids and can be easily transported. Turboden produces turbogenerators with a power range between 200 kW and 5 MW.
Turboden ORC units are characterised by wide application flexibility, being able to produce energy from a number of sources, including: solar energy, biomass, geothermal, waste heat. Up until now the majority of Turboden installations have been in biomass cogeneration, involving the simultaneous generation of both electricity and heat from woody biomass.
As market-leader in ORC technology, Turboden's compact turbogenerators are used by customers around the world to optimise the production of electrical power by being able to exploit low temperature heat sources. Today there are 81 Turboden plants in operation on customer sites. Turboden turbogenerators are characterised by their high level of efficiency, reliability, low maintenance costs and ease of installation (they are delivered to the customer site pre-assembled).
Turboden currently operates through its two sites. The main offices and the construction and assembly plants are located in Brescia and R&D activities on thermo-fluid dynamics are carried out at the Milan site. Turboden has a staff of 96 working in the following divisions: management, design and R&D, marketing/sales, operations & manufacturing, service, accounting and ICT.
Turboden's mission is to increase awareness of the energy efficiency benefits of ORC technology. "We believe that an increase in the number of ORC applications in distributed energy could play a significant role in the reduction of greenhouse gas generation by promoting greater industrial use of renewable energies, as recommended by European directives and international protocols" says Mario Gaia, Turboden founder.
Turboden
Turboden is an Italian company that, since its inception over 20 years ago, designs, produces, offers, supervises and maintains turbogenerators based on Organic Rankine Cycle (ORC), a technology which allows to produce electric power efficiently and in a user friendly way, from low temperature and/or low power heat sources.
Featured Product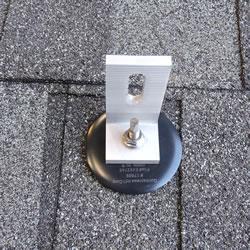 SolarRoofHook's Low Profile QuickBOLT with Microflashing™ is the industry's affordable, UL Certified Asphalt Shingle mounting system. The Microflashing™ is compressed by the collar on the bolt to create a water-tight seal. With an installation time of less than one minute, the Low Profile QuickBOLT allows installers to complete more jobs.