Carmanah Technologies Corporation received the CanSIA "Solar PV Project of the Year Award" for a grid-tied solar power system installed on the Jean Canfield Building in Charlottetown, Prince Edward Island.
Green Government Facility Named Canada's Solar Project of the Year

VICTORIA, BRITISH COLUMBIA, CANADA (December 22, 2008) Carmanah Technologies Corporation (TSX: CMH) received the CanSIA "Solar PV Project of the Year Award" for a grid-tied solar power system installed on the Jean Canfield Building in Charlottetown, Prince Edward Island. In accepting the award at the Canadian Solar Industries Association (CanSIA) conference in Toronto earlier today, Carmanah CEO Ted Lattimore expressed his thanks on behalf of the entire project team, and commented on the global shift towards using renewable energy technology to create healthier and more efficient environments in which to live and work.
At the Jean Canfield Building's grand opening celebration this spring, the Department of Public Works and Government Services Canada had declared the 500-person facility "one of the most environmentally friendly buildings ever constructed by the Government of Canada." Complementing the building's impressive list of environmental technologies and design efficiencies, the Carmanah grid-tied solar power system uses a 636-square meter rooftop array to generate up to 111,000 watts of electrical power from the sun's energy. A web-based interface displays key system information — including the amount of energy produced and greenhouse gases avoided — online (www.solarforbuildings.com) and on a display screen in the lobby.
As a complement to the building's primary electricity supply, the grid-tie solar power system offsets the amount of power drawn from the grid and helps keep monthly power bills low, all while reducing the building's dependency on the electrical utility. According to Ron St. Onge, project manager with Public Works and Government Services Canada, the grid-tie solar power system supplies approximately 8-10% of the building's electrical requirements, helping to keep demand, and electricity bills, under control. "It requires virtually zero maintenance, and aside from monitoring electrical production, it's self sufficient," said St. Onge.
The CanSIA solar conference is held annually to help highlight opportunities, programs and achievements within the solar industry. For more information, visit CanSIA at www.cansia.ca, or visit Carmanah at www.carmanah.com.
About Carmanah Technologies Corporation
As one of the most trusted names in solar technology, Carmanah has earned a reputation for delivering strong and effective products for industrial applications worldwide. Industry proven to perform reliably in some of the world's harshest environments, Carmanah solar-powered LED lights, stand-alone solar power systems, and LED edge-lit signs provide a durable, dependable and cost effective energy alternative. Carmanah is a publicly traded company, with common shares listed on the Toronto Stock Exchange under the symbol "CMH." For more information, visit carmanah.com.
Media Contact:
David Davies
Tel: +1.250.382.4332
ddavies@carmanah.com
Featured Product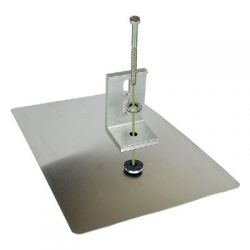 The GreenFasten™ - GF1 system utilizes the patented watertight technology EcoFasten Solar® is known for. The flashing is fit with our EPDM rubber bushing and when used with a compatible EcoFasten Solar compression bracket (milled with countersink), a watertight seal is created, which protects the integrity of the roof. Requiring just a single fastener (lag bolt or self-drilling), GreenFasten provides the fastest install in the industry and will not void roofing manufacturer's warranties. Backed by IAPMO certification, GreenFasten delivers a mounting solution for all new or existing (retrofit) composition shingle roofs, and is the most cost-effective solution available. Like all of the solar roof mount solutions in our line of products, GreenFasten is made in the USA using recycled materials.