The RF module fitted to each lantern enables flash synchronisation without the need for a base controller. This latest innovation is designed to offer a low-cost synchronisation option for applications including rivers, estuaries, marina entrances, channel marking and aquaculture.
Synchronisation benefits vessel operators at night by illuminating the boundary or channel as a clear passage on entrance, as opposed to indiscriminant flashing lights which may render the judgment of distance difficult.

To date, flash synchronisation has only been available in longer range lanterns through systems such as GPS. We are excited by this new feature in the SL70 model as it brings the benefits of syncro to a much wider market."
The SL70 is one of Sealite's most popular self-contained lanterns and has been proven to operate in various low-sunlight environments such as Britain, Canada, and Europe. The lantern boasts dual integrated solar modules to enhance solar collection, is built from tough durable polycarbonate, and uses the latest high-intensity LED's as a light source.
Contact Mark Novo 603-520-8453
Featured Product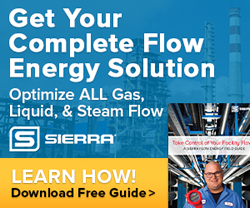 Download Flow Energy Guide - Written by Engineers For Engineers. Learn how to save on energy costs by optimizing your facility flows that impact costs like compressed air, natural gas, steam, and hot or chilled water.