Most accurate, consistent, comprehensive global wind dataset just a click away at 3TIER Web site
SEATTLE (Jan. 29, 2009) - 3TIER today announced the expansion of its FirstLook® Prospecting tool, now providing free access to average wind speed ranges anywhere in the world, through a dynamic 5 km resolution map. Using the most accurate, consistent and comprehensive dataset ever created, FirstLook provides a fast, Web-based assessment tool to globally prospect for viable wind energy generation locations.

"This intuitive and interactive tool provides a free, initial assessment of global wind resources," said Kenneth Westrick, CEO and founder of 3TIER, one the largest independent providers of global renewable energy assessment and forecasting. "We developed this map as part of REmapping the World,' a sophisticated renewable energy resource mapping initiative we launched in March 2008 to address the biggest barrier to global renewable energy adoption - the lack of information."
To navigate the map and find out more about FirstLook Prospecting visit: http://firstlook.3tier.com
"The map's underlying dataset provides the information developers, financiers and governments need to target the best regions in the world for data collection and higher resolution studies," Westrick said. "In short, this map and dataset shorten the process needed to make sound decisions about where to invest in wind energy generation."
As renewable energy developers identify promising wind resources, they can augment FirstLook's initial wind assessment by purchasing FirstLook Assessment Reports, detailed reports that provide a more in-depth estimate of wind resources at specific locations.
Available in just minutes, a FirstLook Wind Assessment Report includes:
∑ Average annual wind speed for the area around your site (50 km by 50 km or 31 miles by 31 miles).
∑ Average monthly wind speed and standard of error for each month of the year.
∑ The distribution of hourly wind speeds throughout the year.
∑ A wind rose for all hourly wind speeds during the year.
∑ The average hourly wind speed and standard of error for each hour of the day.
∑ Wind roses for each month of the year.
∑ Daily wind speed patterns for each month of the year.
"By providing a more in-depth look at the estimated wind regime in a given location, FirstLook reports bridge the gap between basic prospecting and the deployment of additional observational resources," Westrick said. "They provide a scientifically rigorous, but cost-effective method of evaluating a potential site for further assessment."
FirstLook Assessment Reports are currently available for the United States, Canada, and Mexico. Reports for additional regions will be made available throughout the year as the datasets are validated to the standard of accuracy established for the United States.
To produce the 5 km wind map and the underlying dataset, 3TIER implemented an innovative physical-statistical modeling approach.
Unlike traditional models that merely interpolate observed wind speeds between widely dispersed points, 3TIER's system integrates statistical methods with the power of physical-based models, which simulate the interaction between the atmosphere and the earth's surface, to create a more robust and accurate wind climatology. That means the myriad processes responsible for wind - from jet level dynamics to surface level processes and everything in between - are accounted for in these models. They are able to create realistic wind fields throughout the world, with the results especially enlightening in regions where observations are not available.
3TIER ran its model through a 10-year simulation across the world's landmass at a 5 km resolution. The results then were calibrated and validated with observational data to create the final dataset and, ultimately, the world wind map.
"Our model produced more than a petabyte of data, which was combined with available observations to create the richest, most accurate and quantifiable dataset available at the global scale," Westrick said. "This project took nearly a year to complete, and the data shows we achieved our goal of finding the optimal blend between computer modeling technologies and observations."
To learn more about the science, methodology and global validation statistics of the map and dataset, a white paper is also available through FirstLook.
3TIER also is mapping the world's solar resources. In October 2008, 3TIER released the first comprehensive, contiguous, high-resolution solar map for the entire Western Hemisphere. The dataset 3TIER developed to create the solar map is approximately three times the resolution of existing industry solar data standards for the United States and is the only database today that covers all of North, Central and South America.
In addition to FirstLook, 3TIER provides a full suite of assessment and forecasting products for wind, hydro and solar energy projects. 3TIER uses its knowledge about weather, climate and their impacts on weather-driven renewable energy resources to help clients make better decisions about their investments - before, during and after their projects are built.
###
ABOUT 3TIER
Founded in 1999, Seattle-based 3TIER is one of the largest independent providers of wind, solar and hydro energy assessment and power forecasting worldwide. People around the world turn to 3TIER when they want the best scientific information to make decisions about renewable energy projects ó from the prospecting stage to operations. For more information, visit 3tiergroup.com.
Featured Product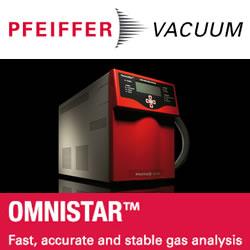 The Pfeiffer Vacuum OmniStar benchtop analysis system offers you a compact footprint, powerful software and Ethernet connectivity. It's the optimum solution for many real-time gas analysis applications. With the OmniStar, Pfeiffer Vacuum offers you a complete solution for gas analysis, in chemical processes, semiconductor industry, metallurgy, fermentation, catalysis, laser technology and environmental analysis. The turnkey OmniStar gas analysis system consists of heated, temperature-regulated gas inlet system, Quadrupole mass spectrometer, a dry diaphragm vacuum pump and HiPace turbopump. Unlike competing methods such as FTIR, OmniStar is suitable for qualitative and quantitative analysis of most gases.