EnerWorks has made a bold statement of its commitment to solar cooling with its technology now powering the largest solar thermal heating and cooling installation in the world.
EnerWorks has made a bold statement of its commitment to solar cooling with its technology now powering the largest solar thermal heating and cooling installation in the world. 640 EnerWorks solar thermal collectors are rack-mounted on the roof of the Fletcher Business Park in Fletcher, North Carolina, providing solar thermal heating and cooling for the industrial/commercial warehouse and offices.

"This entry into solar cooling demonstrates the possibilities of our proprietary technology for cooling," says Dr. Phil Whiting, EnerWorks President and CEO. "Solar cooling will be an area of significant growth for our company."
EnerWorks has entered into an exclusive partnership in North Carolina with Vanir Energy, LLC. Vanir Energy owns and operates the system and brought significant knowledge on linking solar thermal technology to space heating and cooling.
"When we were choosing partners for this project, EnerWorks came right to the forefront," says Steve Hunter, Vanir Energy's Chief Operating Officer. "Their appliance approach to manufacturing gave us confidence as the equipment was pre-engineered, pre-tested and assembled before arriving at the job site. Their collectors are the highest energy producing collectors available, and the integration between their in-house engineering and on-site project management brought the unrivaled level of support we were seeking of our partner."
"We received the order in early October," says Doug Kless, EnerWorks Director of Business Development for southeast USA, "and the system was commissioned at the end of December, ahead of schedule. From start to finish, it was a smooth process and a fabulous start to our partnership with Vanir."
"We were particularly impressed with EnerWorks's engineering team and the insights and value they brought to the design and installation of the system," adds Alex Leon, President of Vanir Energy. "Our due diligence revealed the exceptional quality of EnerWorks's solar thermal application, key to our selection of EnerWorks as the exclusive partner for all of the remaining projects in our Vanir Fund One, which makes entrance into this technology barrier-free."
The Fletcher Park installation, while the first solar cooling application of EnerWorks technology, is not the first large scale project where the solar energy produced has been directed to multiple uses. Over 900 EnerWorks collectors are installed at the Drake Landing Solar Community in Okotoks, Alberta near Calgary, where the collectors are incorporated in a district heating system.
"These two installations represent diverse applications of EnerWorks's solar thermal technology - one tied to solar heating and cooling, and the other to district heating," says Whiting. We built the collectors for Fletcher Business Park in just a few weeks, demonstrating the scalability of our production process to effectively meet this size of order."
Quick Facts
• Fletcher Business Park is the largest installation of solar thermal heating and cooling technology in the world, according to a database maintained by the Solar Heating and Cooling Program of the Paris-based International Energy Agency
• System is approximately 1.5 times larger than the next biggest installation, which is at the Beijing Olympic Village
• 640 EnerWorks solar collectors
• Produces 4.4 MMBTU/H of delivered thermal energy
• System includes 1.6 miles of piping
• One mile of custom fabricated steel support structure for the collectors
• 27,000 gallon hot water storage tank
• Building is approximately 1 million square feet
Technical Background is available upon request.
About EnerWorks
EnerWorks Inc. is a leading North American solar thermal technology provider. With proven, patented technology and certified systems, EnerWorks offers high quality, reliable and cost effective renewable energy solutions to the North American market.
EnerWorks develops and manufactures proprietary renewable energy appliances for residential, commercial and industrial markets. In the residential market, EnerWorks's solar water heating appliances are fully certified, ENERGY STAR® qualified, and the only system meeting CSA international standards. They complement existing water-heating services and provide users with clean energy and a real reduction in energy costs. In the commercial and industrial markets, EnerWorks is at the forefront of integrated solar thermal solutions, working with local partners to design, install, commission and maintain solar thermal heating systems.
Contact Information:
Kathleen Barnard, Marketing Manager
EnerWorks Inc.
P: 519-268-6500
www.enerworks.com
Stephen Hunter II, Chief Operating Officer
Vanir Energy, LLC
P. 916-419-2411
www.vanirenergy.com
Featured Product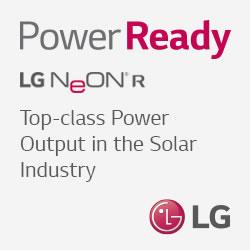 The NeON R module features "Back Contact" cell technology delivering an entirely black panel that is aesthetically pleasing and energy efficient. The cell's seamless, surface blends perfectly into nearly all rooftop designs while the module's electrodes are positioned on the rear of the cell. Using LG's N-type cell structure, the panels produce 365W of energy, up to 7.3kWp, compared to 5.8kWp of the p-type cell. The module's new design minimizes LID, thereby delivering a longer lifespan and increased energy output.