New Jersey Utility Announces Innovative Program to Build 120 MW of Solar Capacity
The Solar Electric Power Association (SEPA) applauds Public Service Electric & Gas Company (PSE&G), an investor-owned utility in New Jersey, for today's announcement of a plan to invest $773 million to add 120 megawatts (MW) of utility-owned photovoltaics within its service territory.

PSE&G's Solar 4 All Program is one of many large-scale utility-driven solar projects and programs SEPA anticipates to be rolled out this year as a result of changes to the federal solar investment tax credit (ITC) instituted in October 2008. The most significant and relevant change removed a prohibition which prevented investor-owned electric utilities from utilizing the federal ITC for solar electric projects, making the economics attractive enough to stimulate utility investments.
"Utility access to the federal solar investment tax credit will signific
antly change the pace for solar electricity adoption by the traditional utility power sector," stated Julia Hamm, SEPA executive director. "Investor-owned utilities across the US are in the midst of strategizing not about whether they should incorporate solar into their generation mix, but rather how and how much. There are many options available to utilities, ranging from purchasing solar kilowatt/hours from large-scale central station plants and small distributed solar plants on customers' rooftops, to owning their own central station and distributed solar facilities. The question utilities are now investigating is which business model, or combination of business models, will be most beneficial to the utility, its shareholders, and its customers."
The diversity of elements in the PSE&G program lend to its strength in targeting multiple markets segments. Dubbed "Solar 4 All," the plan includes a four pronged approach: adding PV panels on up to 200,000 utility poles; installing small rooftop PV systems on government facilities; installing large-scale solar power plants on utility property, brownfields, and underutilized real estate; and, installing systems on affordable housing developments.
Mike Taylor, SEPA director of research and education, says, "In 2008, Southern California Edison, San Diego Gas & Electric, and Duke Energy all announced similar programs focusing on utility ownership of distributed photovoltaics. This 'distributed power plant' business model is a trend we expect to see continue in the future."
PSE&G's plan to mount solar panels on up to 200,000 utility poles is one of the more innovative parts of their proposed program. "No other utility to my knowledge has taken a similar approach," says Taylor. "In addition to adding solar capacity to the grid, this application has the potential for great educational value, both in familiarizing utility personnel with solar technology and putting widely deployed solar in front of millions consumers."
According to PSE&G, the Solar 4 All program has been submitted to the New Jersey Board of Public Utilities and the regulatory body has 180 days to take action on the filing. PSE&G hopes to start installation in 2009 with the entire program rolling out over a 5-year period.
In October 2008, Ralph Izzo, the chairman, president and chief executive officer of PSE&G's parent company Public Service Enterprise Group Incorporated (PSEG), was honored with the first ever Solar Electric Power Association Utility CEO of the Year Award for his leadership in driving PSE&G's solar activities.
To arrange interviews with or comments from Julia Hamm, SEPA executive director, or Mike Taylor, SEPA director of research & education, contact Josephine Mooney at 202-559-2024 or jmooney@solarelectricpower.org.
About the Solar Electric Power Association: SEPA is comprised of over 500 utilities and solar industry members. From national events to one-on-one counseling, SEPA is the go-to resource for unbiased and actionable solar intelligence. Breaking down information overload into business reality, SEPA takes the time and risk out of implementing solar business plans and helps turn new technologies into new opportunities. www.solarelectricpower.org
### end ###
Featured Product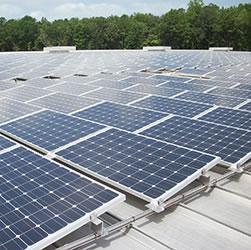 The Power Rail™ Commercial Mounting System is designed with the professional PV solar installer in mind. Both the XD/UD and LD/MD rails feature single tool assembly with the revolutionary patented RAD™ Lock-in-Place bolt for fast and secure module clamping. The high strength marine-grade aluminum rails include an integral wiring channel for securing cables and providing a professional finish.