New Net Metering Rule Means Sunny Times for Solar and Other Clean Energy in Utah
An order issued February 12 by the Utah Public Service Commission (PSC) significantly revised the state's net metering policies to encourage customer generation of electricity and foster a strong local clean energy market. The decision is lauded by local and national renewable energy advocates, including: Utah Clean Energy, Interstate Renewable Energy Council (IREC), the Vote Solar Initiative and the Solar Alliance.

"Net metering" is a policy that allows energy consumers who install qualified distributed renewable energy systems, like wind and solar, to connect to the grid and receive credit for the electricity they produce. It is one of the most effective tools that states can implement to encourage the adoption of solar, wind and other clean energy technologies.
"Distributed renewable energy from homegrown, clean energy resources delivers significant environmental and economic benefits that are often undervalued," said Sara Baldwin of Utah Clean Energy. "This momentous ruling sends the message that Utah values clean energy and wants to see more distributed renewable energy included in our energy mix."
According to the Interstate Renewable Energy Council, "the PSC's decision is the equivalent of laying out a welcome mat for the solar industry. IREC expects Utah's new net metering policy to be instrumental in helping interested Utahans to meet some of their energy needs with clean, renewable energy." IREC also commends Rocky Mountain Power for taking a very reasonable approach to accommodating an expansion in net metered systems.
"Net metering is a critical element for developing a strong, balanced solar market. The PSC's decision is an important step in allowing more of Utah's residents and businesses to go solar," said Gwen Rose, deputy director of Vote Solar, a grassroots organization that works to advance solar policy nationwide.
"Effective policies like Utah's new net metering program are key to unlocking solar's full economic potential. The PSC's decision places the State firmly among the top net metering programs in the country," said Carrie Cullen Hit, president of the Solar Alliance, a state-focused advocacy group of the U.S. solar industry.
Utah's net metering changes include a number of provisions that make it easier and more cost-effective for energy customers to adopt solar. Highlights include:
• Enrollment capacity for the program was raised to 20 percent of 2007 peak demand, which allows for nearly one gigawatt (GW) of net metered clean energy, from the following resources: solar, wind, biomass, hydroelectric, geothermal, fuel cells, hydrogen, waste gas and waste heat capture or recovery, anaerobic digestion, and landfill gas.
• System owners retain ownership of Renewable Energy Certificates (RECs), allowing faster return on their investment.
• Residential and small commercial energy consumers receive full retail credit (or kilowatt hour-for-kilowatt hour) for excess generation, providing a greater financial incentive for distributed energy production.
• Large commercial and industrial energy consumers are granted two options for valuing excess generation: a rate based on avoided cost or a rate based on utility revenue and sales contained in FERC Form No. 1. This innovative mechanism is a creative means to reconcile disparities in energy charges and demand charges incurred by large energy users.
###
Utah Clean Energy is a non-profit organization partnering to build the new clean energy economy. Since 2001, Utah Clean Energy has been engaged in the policy and regulatory arenas, coupled with community engagement and education, to advance renewable energy, energy efficiency, high performance building, and solutions to address climate change. www.utahcleanenergy.org
Vote Solar is a non-profit grassroots organization working to fight climate change and foster economic opportunity by bringing solar energy into the mainstream. Since 2002 Vote Solar has engaged in state, local and federal advocacy campaigns to remove regulatory barriers and implement the key policies needed to bring solar to scale. www.votesolar.org
Interstate Renewable Energy Council (IREC) is a non-profit organization that has worked for over two decades to accelerate the sustainable utilization of renewable energy resources. With funding from the U.S. Department of Energy, IREC's mission includes assisting policymakers in identifying best practices in the areas of net metering and interconnection of renewable resources. To that end, IREC has participated in proceedings before over eighteen state utility commissions in the past two years. IREC has also developed model interconnection standards and model net metering rule that represent best practices in these areas. www.irecusa.org
The Solar Alliance is a state-based advocacy group of companies involved in the design, manufacture, construction and financing of PV systems. The Alliance works closely with SEIA on federal policy and with Vote Solar and state trade associations such as CALSEIA, AriSEIA, TREIA and others on local initiatives. www.solaralliance.org
Featured Product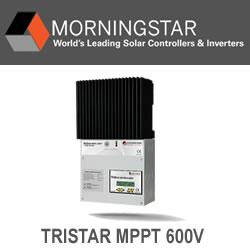 Morningstar's TriStar MPPT 600V charge controller leverages Morningstar's innovative TrakStar™ MPPT technology and our 20+ years of power electronics engineering excellence, to enable the widest input operating voltage range available from a solar array, wind turbine or hydro input. This controller's standard and DB versions are for off-grid applications, and the TR versions were developed to enable retrofitting grid-tied systems with battery backup.