Iskra Wind Turbines today announced that it has launched a search for distributors in Scandinavia (Denmark, Norway and Sweden), Benelux (Belgium, Luxembourg and the Netherlands) and Germany for its AT5-1 turbine.
Iskra will be supporting the distributors with a comprehensive new training and certification programme, including detail on the technology, how to install and maintain the turbine and key competitive differentiators. Following the training all of the necessary information, including installation videos, will be available on-line at Iskra's new website which will be launching in April 2009.

Commenting on the search for distributors, Claus Jacobsen, Sales and Marketing Director, Iskra Wind Turbines, says:
"If you are a distributor that really knows the small wind market selling our turbine is a very attractive commercial proposition. It is extremely well engineered, competitively priced, including a good margin, and is ideal for a wide range of customers including homes, schools, farms and light industrial."
If you are interested in working with Iskra as a distributor please contact Claus Jacobsen at clausjacobsen@iskrawind.com.
AT5-1 Turbine
The AT5-1 advanced wind turbine can produce 9000KWh (units) per year at an average wind speed of 11 miles per hour, enough to provide electricity for two average homes.
Iskra's turbines use sophisticated technology and design to make them the most efficient and cost-effective small wind turbines on the market. The company spent five years on research and development before manufacturing its first wind turbine in 2004. The turbines are manufactured in the UK with all parts sourced in the UK.
Performance
The AT5-1 is manufactured with a 20 year design life and is tested to the IEC 61400 standard for power and noise. The turbine generator is 96% efficient at low wind speeds, starting at six miles per hour. It will continue to produce 5kW up to wind speeds of 134 mile per hour.
The 200 plus Iskra turbines installed to date have together operated for more than 230 years, with an average operating up time of 99%. The turbine has been designed with planning permission in mind - they are about the size of a lamp-post, and are grey or white, to make the least possible visual impact on the environment.
Iskra has developed a number of patented technologies that ensure that the turbine is the most efficient and cost effective small wind turbine of its size. These technologies include:
• Generator technology that is highly efficient at low revolutions
• An electro dynamic brake which acts as an additional safety device, which critically does not have any moving parts
• A passive pitching mechanism that provides maximum efficiency at low speeds and the ability to generate power up to wind speeds of 134 miles per hour while controlling structural loads
- ends -
Notes for editors:
Iskra is a supplier of renewable energy systems. It makes an advanced wind turbine (AT5-1) for the 'small wind' market - for example, for homes, schools, and farms (as opposed to the 'big wind' market of commercial wind farms or roof mounted turbines - micro wind).
For more information please contact:
Richard Houghton/Kate Hartley
Carrot Communications
Tel: + 44 (0)7803 178 037
Email: Richard.houghton@carrotcomms.co.uk
Featured Product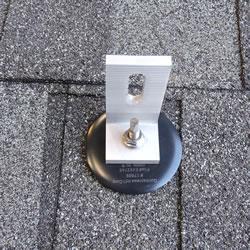 SolarRoofHook's Low Profile QuickBOLT with Microflashing™ is the industry's affordable, UL Certified Asphalt Shingle mounting system. The Microflashing™ is compressed by the collar on the bolt to create a water-tight seal. With an installation time of less than one minute, the Low Profile QuickBOLT allows installers to complete more jobs.