Following the meeting of Alex Salmond and Hilary Clinton, also the release of the Obama-Biden 'New Energy for America' plan, Proven Energy wish to help America realise their renewable goals.
Washington D.C.— Hilary Clinton, the U.S. Secretary of State, this week met with Scottish First Minister, Alex Salmond to discuss Renewable energy and global warming.

The conversation followed the comprehensive "New Energy for America" plan. The Obama-Biden plan has aggressive goals which will ensure 10% of electricity comes from renewable sources by 2012, and 25% by 2025.
Mr Salmond stressed that Scotland has an appetite to assist with these goals. Ayrshire based Proven Energy, who have almost 30 years experience in manufacturing small wind turbines, is currently making significant reductions in carbon emissions in the United States. Market analysis by the American Wind Energy Association (AWEA) reveal that Proven Energy wind turbines are among the top 3 small wind turbine suppliers for the United States.
CEO of Proven Energy, Andrew McMullan, said "Scotland's First Minister's meeting with Mrs. Clinton is extremely encouraging for manufacturers who will assist America to meet its commitments and achieve their goals of generating renewable, cleaner energy." Proven Energy is already creating new jobs via the expansion of its network of U.S. based dealers and installers. Furthermore, Proven Energy is considering manufacturing options in the United States as it continues to grow.
The American Recovery and Reinvestment Act signed into law last week by President Obama includes provisions for all Proven Energy wind turbines installed in the United States to qualify for an uncapped 30% cost of system tax credit. Businesses may accept this incentive as a tax credit or a grant. Other provisions within this bill allow U.S. non-profits to secure funding for the purchase of small wind turbines.
President Obama commented "The plan is to truly transform our economy, protect our security, and save our planet from the ravages of climate change, we need to ultimately make clean, renewable energy the profitable kind of energy. So I ask this Congress to send me legislation that places a market-based cap on carbon pollution and drives the production of more renewable energy in America. And to support that innovation, we will invest fifteen billion dollars a year to develop technologies like wind power and solar power; advanced biofuels, clean coal, and more fuel-efficient cars and trucks built right here in America."
Featured Product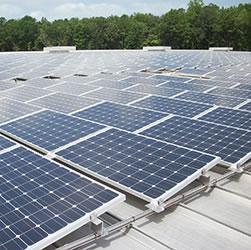 The Power Rail™ Commercial Mounting System is designed with the professional PV solar installer in mind. Both the XD/UD and LD/MD rails feature single tool assembly with the revolutionary patented RAD™ Lock-in-Place bolt for fast and secure module clamping. The high strength marine-grade aluminum rails include an integral wiring channel for securing cables and providing a professional finish.