EnerWorks announced today two appointments which demonstrate its commitment to unparalleled customer service and support.
EnerWorks announced today two appointments which demonstrate its commitment to unparalleled customer service and support. Wilfred Laman, P.Eng. will assume the role of Commercial and Industrial Business Development Director, while Kathleen Barnard will lead the Inside Sales team with the broadened position of Marketing and Inside Sales Manager.

"We are dedicated to providing an unrivaled level of service and support to our distributors, partners and customers," says Tony Ali, VP Sales & Marketing. "Enabling Wilfred to further concentrate on national accounts, and Kathleen to lead the Inside Sales group will continue to distinguish EnerWorks and best assist our clients."
Laman graduated in 1987 with a Bachelor of Science in Engineering and is a registered Professional Engineer. Since graduating, he has worked extensively in mechanical systems in both commercial and industrial markets. Laman joined EnerWorks in 2007 and has worked on projects for Toronto's Hospital for Sick Children (SickKids), Toronto Community Housing, Del Properties and Loretto College. In his new role, he will be working with strategic national accounts throughout North America, integrating EnerWorks's award-winning commercial and industrial solar thermal solutions into key industry verticals.
"The number of national-level commercial and industrial opportunities for EnerWorks's solar thermal technology is continuing to grow," says Ali. "Wilfred will fill an important role in our corporate development team, furthering the cultivation of key markets and ensuring EnerWorks continues to be a superb supplier for our channel partners."
Laman is presently serving his third year as a Director and Regional Chairman on the ASHRAE Headquarters' Board of Directors, having participated in ASHRAE since 1987. He is the recipient of a Chapter Service Award, a Regional Award of Merit and a Distinguished Service Award, and also sits as a Corresponding member of TC 5.1, 5.4, 5.8, 6.6 and 6.7.
Barnard also joined EnerWorks in 2007, bringing twenty years of experience and expertise to EnerWorks's marketing department. In her new position, she will direct the dedicated group providing sales support to EnerWorks's distributors, partners and customers, while continuing to lead the marketing efforts.
"Kathleen brings a wealth of knowledge and expertise in media planning, promotion, account management and strategic development and execution," says Ali," Her leadership in inside sales as well as her ongoing work in marketing will enable EnerWorks to continue to build our brand and drive customer awareness of the phenomenal benefits of solar technology."
About EnerWorks
EnerWorks Inc. is a leading North American solar thermal technology provider. With proven, patented technology and certified systems, EnerWorks offers high quality, reliable and cost effective renewable energy solutions to the North American market.
EnerWorks develops and manufactures proprietary renewable energy appliances for residential, commercial and industrial markets. In the residential market, EnerWorks's solar water heating appliances are fully certified, ENERGY STAR® qualified, and the only system meeting CSA international standards. They complement existing water-heating systems and provide users with clean energy and a real reduction in energy costs. In the commercial and industrial markets, EnerWorks is at the forefront of integrated solar thermal solutions, working with local partners to design, install, commission and maintain solar thermal heating and cooling systems.
Featured Product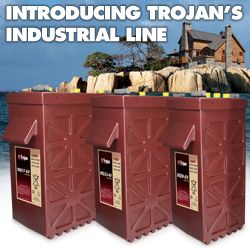 Trojan's deep-cycle batteries provide rugged durability, outstanding performance and long life for use in all types of solar energy installations. With over 90 years of experience, Trojan delivers the world's most reliable and trusted batteries in flooded, AGM, Gel, and Lithium types. These batteries enable solar equipment systems to operate at a peak level of performance in the harshest conditions or the most challenging of locations and are manufactured and tested to IEC standards.