Survey of attendees at RETECH 2009 on the impact of the smart grid.
Importance of the US smart grid not matched by its PR

London, March 19, 2009 - What will be the impact of the smart grid on the US clean tech industry? This was the question posed at RETECH 2009 by Sentec, a UK-based product development company, with a particular focus on energy management and metering.
"A significant proportion of those surveyed - 69 per cent - believe that the smart grid will have a major impact on their business. However, almost the same number - 62 per cent - think that the industry has been largely unsuccessful in publicising the smart grid," explained Hermione Crease, marketing manager at Sentec. "Attendees at RETECH are the people with their fingers on the pulse of the energy industry in the US, so I think it's a strong reflection of belief within the sector."
Crease continued, "The feeling that the industry has not been successful in publicising the smart grid is particularly interesting for other countries, such as the UK, that might seek to learn from the US experience. As the concept of the smart grid looks set to be to be replicated elsewhere, the importance of putting in place a comprehensive plan to promote the benefits of the smart grid to all stakeholders cannot be underestimated."
Other results showed that 'greater operational efficiency for the electricity grid' was believed to be the most important feature of the smart grid, with 'easy integration for distributed generation products' a close second.
Crease added, "The arrival of the Smart Grid will offer great opportunities for companies that produce clean energy products for the home. Of course, alongside those opportunities are many product development challenges which Sentec, with its excellent track record in smart metering and home energy products, is very well placed to meet.
This year's RETCH, hosted by the American Council On Renewable Energy, took place in Las Vegas between 25 and 27 February. The event attracts the top organisations and thought leaders in the renewable energy industry from across the world. Sentec concentrated its efforts at the show on the implications of a large scale roll out of the Smart Grid for CleanTech businesses.
-ends-
About Sentec
Sentec provides product development and innovation that meets the need for intelligent products in the energy market. It develops and licenses technology in the utility sector with a particular focus on energy management and Smart Grids globally. It also offers product development consulting in a wider range of industries and challenges. Much of its work is confidential, but partners include Sensus Metering, Morphy Richards, Disenco, Danfoss and Prodrive.
www.sentec.com
Press contact:
Aspectus PR (for Sentec)
Alastair Turner / Ellie Bacon
Alastair@aspectuspr.co.uk / Ellie@aspectuspr.co.uk
+44 (20) 7487 8443
Featured Product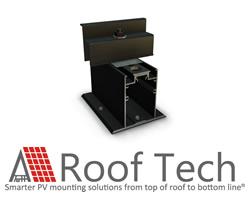 The most compact versatile rail-less PV mounting system under the sun. Instead of placing solar panels on top of long rails, simply attach E Mount AIR to rafters or the roof decking. Once panels are fastened to the roof, the system array is electrically bonded. The result is a visually seamless PV installation that stands the test of time. - Truly "One With The Roof". - PE stamped cert. letters available, UL 2703 Classified, ASTM 2140 fully waterproof. The one and only with integrated flexible flashing certified by the ICC! All the best quality. Only from Roof Tech