Aquamarine Power is pleased to announce that it has appointed one of the world's foremost geotechnical drilling and marine construction contractors, Fugro Seacore, to install its Oyster® Wave Energy Converter.
After a competitive commercial tender process, the contract worth approximately £2million will see Oyster® commence its installation on the seabed at the European Marine Energy Centre (EMEC) in Orkney during summer 2009 with completion scheduled for the Autumn.

Fugro Seacore has over 30 years experience of near-shore drilling and specialist marine installation projects. Their equipment - designed and fabricated in-house - has been developed and proven over many years of world-wide use in marine civil engineering contracts and existing offshore wind farm projects. The company's strong history provides it with excellent capability to serve the marine renewable energy markets and Aquamarine in particular.
This key appointment follows the announcement of Aquamarine's first development agreement with Airtricity, the renewable energy development division of Scottish and Southern Energy (SSE), aimed at developing sites capable of hosting 1,000MW of marine energy by 2020.
Martin McAdam, Chief Executive of Aquamarine commented: "This is an important time for Aquamarine Power. We are installing a full scale demonstrator of our Oyster® wave device. The device works - it has been tested in the wave tanks and we have completed full scale on-shore testing. This is our baby - we want it to be installed and we want it to be installed correctly and carefully and we need a world class contractor to do that - that is why we have chosen Fugro Seacore.
We went through an extensive tendering process to ensure that we have the right contractor. It was a balance of skill and cost and in appointing Fugro Seacore, we have achieved that balance.
Fugro Seacore is one of the world's leading marine drilling and civil engineering contractors. In my experience every project has challenges. Even though we have planned this installation in great detail, I still expect there will be problems. Appointing someone like Fugro Seacore means that when problems occur we will work through the problems together and deliver a successful installation. The future of electricity generated from wave energy starts now."
Bob Jenkins, Fugro Seacore's Managing Director added: "We are delighted to be working with Aquamarine, which we believe will be at the forefront of the upcoming revolution in marine energy. Like all projects of this nature, there are likely to be challenges to be addressed. However, we are confident that we have the necessary expertise to successfully complete the Oyster® installation this year."
Ends
For further information, contact:
Buchanan Communications
Diane Stewart 0131 226 6150
dianes@buchanan.uk.com
Carrie Clement 0131 226 4427
carriec@buchanan.uk.com
Or visit www.aquamarinepower.com
Notes to Editors:
Aquamarine Power Ltd
• Aquamarine Power was the first marine energy company in the UK to develop both wave and tidal power devices simultaneously and to have secured test berths for both technologies at the European Marine Energy Centre (EMEC) in Orkney.
• Aquamarine Power was founded in 2005 by leading marine energy developer, Allan Thomson, and Professor Trevor Whittaker, head of the award-winning wave power research group at Queen's University Belfast.
• Aquamarine Power's senior management team includes CEO, Martin McAdam, who founded Airtricity's US operations, recently sold for £0.75 billion, and COO, Matthias Haag, former General Manager at Shell WindEnergy.
• Oyster® has been designed to capture the energy found in amplified surge forces in near-shore waves. The system consists of a simple oscillating wave surge converter, or pump, fitted with double acting water pistons, deployed near-shore in depths of between 8 and 16 metres. Each passing wave activates the pump which delivers high pressure water via a sub-sea pipeline to the shore. Onshore, the high-pressure water is converted to electrical power using conventional hydro-electric generators.
• In October 2007 Aquamarine Power joined forces with Scottish and Southern Energy's subsidiary, Renewable Technology Ventures Ltd (RTVL), securing a £6.3m investment from SSE and a further £1.5m from Sigma Capital Group plc.
• Aquamarine Power has received significant funding and support from Scottish Enterprise, Highlands and Islands Enterprise, the Technology Strategy Board, the Royal Academy of Engineering, the Engineering and Physical Sciences Research Council (EPSRC) and the Scottish Government.
• Aquamarine Power recently featured in leading environmental business website Greenbang's UK Clean Tech Start-Up Index of 23 top UK new businesses in the clean technology sector. More details at www.greenbang.com.
• Aquamarine Power was named 'Emerging Technology Promoter of the Year' at the Global Renewable Energy Awards 2008. More details at http://www.euromoneyenergy.com/default.asp?Page=11&eventid=ECK50.
Fugro-Seacore
• Fugro Seacore (www.seacore.com) is at the very top of an industry where skill and experience count for everything. It is a specialist marine drilling contractor, registered in the UK, working on projects all over the world and employs about 180 people.
Featured Product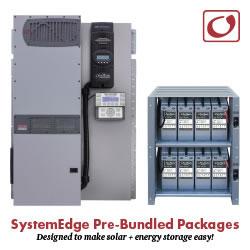 Each pre-bundled package is designed to make solar plus energy storage easy. By combining OutBack's most popular FLEXpower pre-wired systems with matched OutBack energy storage, SystemEdge takes the guesswork out of installing solar plus storage. Every SystemEdge package includes a FLEXpower factory pre-wired system, application-specific EnergyCell batteries and racking, FLEXware ICS Plus combiner and all the necessary connection hardware.