Solar Energy Industries Association (SEIA) President and CEO Rhone Resch today offered the following statement on President Barack Obama's meeting with clean energy entrepreneurs and leaders of the research community to discuss investments in clean energy and new technology in his budget proposal:
"Today's meeting is another clear sign from President Obama that clean energy and green jobs will play a vital role in our nation's economic future. The solar energy industry stands ready to lead the new clean energy economy, but we need the right policies from Washington to do that. Among those policies are immediate implementation of the loan guarantee and grant programs by the Departments of Energy and Treasury, with many solar industry projects on hold until these rules are finalized. We are also urging Congress to pass a national renewable portfolio standard with a specific provision designed to tap our nation's rich solar resources.

"In 2008, U.S. installed solar energy capacity grew 17 percent and domestic manufacturing increased 65 percent, despite the economic downturn. To fully realize the solar energy industry's potential as an emerging jobs engine and clean energy source, we also need to modernize our transmission grid, develop global warming legislation that encourages greater use of clean solar energy, and set grid connection standards that allow Americans to be compensated for generating solar electricity on their roofs and sending excess power to the community."
###
Background Materials:
U.S. Solar Industry Year in Review 2008


SEREF/Google.org Solar Jobs Map



Media Contacts:

Monique Hanis, mhanis@seia.org , 202.682.0556 ext. 4

Jared Blanton, jblanton@seia.org , 202.682.0557 ext. 96

Mark Sokolove, mark@tigercomm.us , 703.302.8382

SEIA President and CEO Rhone Resch is on Twitter. See what is on his mind today!
Featured Product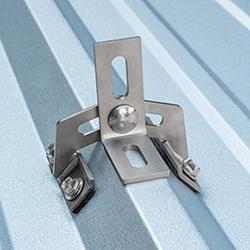 QuickBOLT Low Profile QuickBOLT with Microflashing™ is the industry's affordable, UL Certified Asphalt Shingle mounting system. The Microflashing™ is compressed by the collar on the bolt to create a water-tight seal. With an installation time of less than one minute, the Low Profile QuickBOLT allows installers to complete more jobs.