Renewable Energy enthusiasts everywhere finally have a place to call home. The all new RELforum.net is a place where people from around the world can come together to discuss renewable energy. Renewable energy is a dinner table topic for millions around the world and it now has its own community.
Over the past 20 years, renewable energy has been a topic that was rarely discussed. More recently as the price of oil shot up, renewable energy has become a talking point for many politicians, companies, and families around the world. With President Obama requesting billions for renewable energy, many Americans are left wanting to know more about where this money is going. There are dozens of magazines and hundreds of websites on renewable energy. Information is everywhere but nowhere for people to ask questions and get their answers in real time, until now. Renewable energy has its own online community where questions can be answered in real time. The website is RELforum.net and it allows people from around the world to discuss renewable energy. Set up as an online discussion board, RELforum also users to posts questions and ideas on the topic and see their questions answered in real time by other members.

The website allows consultants, professors, enthusiasts, business owners, and anyone interested in renewable energy to converge in one area. As the technology involved with renewable energy changes, a sales person for a solar cell company in California may know more about the latest solar panel news than a professor of solar technology in Massachusetts. RELforum changes that and allows for information to be shared in real time without the delay normally seen in a magazine release or newspaper print time. As the number of members to the community increases, so does the amount of available knowledge. This think tank is the perfect place for those new to renewable energy to begin. Whether it is a question on how to setup a solar panel system or an explanation on how geothermal energy works, the community can help.
Membership to the community is free and the knowledge gained is priceless. Members can sign up for RSS feeds on their favorite topics as well as listen to the weekly podcasts on the latest renewable energy news.
Featured Product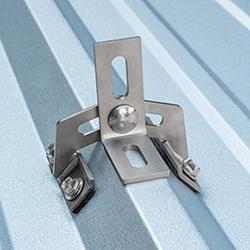 QuickBOLT Low Profile QuickBOLT with Microflashing™ is the industry's affordable, UL Certified Asphalt Shingle mounting system. The Microflashing™ is compressed by the collar on the bolt to create a water-tight seal. With an installation time of less than one minute, the Low Profile QuickBOLT allows installers to complete more jobs.