(Boulder, CO - March 26, 2009) - The non-profit American Solar Energy Society (ASES) and the global solar experts at Conergy will meet that demand at their 2009 SOLAR SUCCESS!TM Training Event, May 11-14 in Buffalo, NY.
(Boulder, CO - March 26, 2009) - Rich government incentives and a groundswell of support surrounding renewable energy solutions have fueled demand for an encore of the first solar training partnership to provide the holistic strategies, tools, insights and hands-on training needed for solar business owners to thrive in today's hotly-competitive solar marketplace. The non-profit American Solar Energy Society (ASES) and the global solar experts at Conergy will meet that demand at their 2009 SOLAR SUCCESS!TM Training Event, May 11-14 in Buffalo, NY.

The tax-deductible business training event* is co-located at the 38th annual ASES National Solar Conference - the longest-running conference in the industry. Registration for the SOLAR SUCCESS!TM training event is available through ASES. An early bird discount is available until April 15, 2009.
SOLAR SUCCESS!TM participants are privy to the latest technologies, installation techniques, financial incentives, lead qualifying and customer service insights of some of the industry's top manufacturers. The preliminary schedule is published at www.solar-success.org. Last year's standing-room-only event attracted over 500 professionals, making it the largest solar energy industry training in the U.S. Before and after training sessions, participants have access to the entire ASES SOLAR 2009 trade show floor, where they can network and take deeper dives into key subject matter with hundreds of industry leaders, including manufacturers, installers, researchers, scientists, engineers, investors, analysts, educators and public officials. The ASES SOLAR 2009 conference runs May 11-16 at the Buffalo-Niagra Convention Center.
"This isn't your standard technical training," said Donald Chung, Managing Director of Distribution for Conergy Americas, a full-service wholesale distributor serving a network of over 500 solar energy dealers and installers across the U.S. "What sets this training apart from others is the talent pool of industry experts we've engaged to help professionals tackle a full range of solar business considerations. We combine extensive technical and product training with a suite of business-focused content to arm participants with the tools they need to qualify, build, grow and promote their businesses."
Among the industry powerhouses on hand to provide technical training will be ASES SOLAR 2009 conference exhibitor SANYO, who will also be providing consumers with information about their new product line-up. At the training, SANYO will introduce its much-lauded HIT Power N Series of solar panels, which offer installers higher module output, lower voltage, space savings and lower installation costs. The HIT Power® N Series solar panels are said to offer the most efficient and competitive cost per kWh panels in the market today. Solar Success!TM event organizer and industry sponsor Conergy is a SANYO wholesale distributor. The new modules will be available to their national dealer network in April 2009. Nearly one in 10 of the solar energy systems designed, distributed or installed in the world have the power of Conergy behind them.
SOLAR SUCCESS!TM also offers sessions to assist contractors, service providers and entrepreneurs interested in breaking into the solar business. "Many of those engaged in the construction trades don't realize that their skill sets and companies can be efficiently transitioned into the burgeoning business of solar energy," said Chung. "They already possess about 80% of the knowledge and capabilities needed to be successful in solar," he said. "With a decade of market experience and a 1 Gigawatt global solar energy portfolio, we at Conergy have the expertise, suppliers, logistics infrastructure and financial services network to give those wishing to diversify into solar the additional 20% they need to succeed in our industry."
SOLAR SUCCESS!TM offers a menu of over 30 interactive sessions for entrepreneurs with flexible registration options organized into two, four or six-day tracks (Solar Success! for Start-ups, Solar Success! Fast Track, and Solar Success! All Access) depending on their level of business exposure. Sessions are organized in the following tracks:
• System Design and Installation: Industry best practices, technical, code-compliant design & installation practices for optimal system performance, NABCEP-approved training and OSHA requirements for installers and project managers;
• Manufacturer Training: Hands-on training from renowned industry manufacturers covering product features and benefits, system performance and new product introduction;
• Business & Project Finance Training: Tools and services to accelerate sales and streamline small business operations;
• Sales & Marketing Strategy: Identifying and understanding what motivates customers in today's economy, market incentives and financing options, state renewable portfolio standards overview, effective lead generation through marketing and public relations campaigns and positioning your business for rapid success.
The SOLAR SUCCESS!' Web site helps visitors select the right training option to meet their business needs.
In his address to the U.S. Congress on February 24, President Barack Obama committed to investing $15 billion a year to create conditions that will double the amount of renewable energy produced in America in the next three years. The investments create fertile ground for thousands of businesses and entrepreneurs to engage in renewable energy innovations that make solar affordable for businesses, home owners and public agencies, while helping them save billions of dollars on their energy bills.
This training helps professionals interested in solar photovoltaic markets at all levels: 1) update skill sets, 2) learn about solar pv product performance improvements, 3) navigate the maze of governmental financial incentives, 4) improve business practices, 5) simplify their business processes and 6) optimize their success within the complexities of today's marketplace. This training serves an industry audience that is not satisfied by existing shows. Up-to-the-minute information on customer and installer products -- and the incentives that are stimulating residential and commercial markets -- will also be shared.
According to ASES Conference Director Becky Campbell-Howe, today's interest in renewable energy is unprecedented. "With enticing federal tax credits, billions of dollars in grants and loans, state-funded cash rebates, renewable energy portfolio standards and a groundswell of consumer support for sustainable solutions that promote energy independence, the economics of renewable energy have never been more compelling," she said. "Solar energy is not just good for the environment, it's a job-creating, business-building, revenue-generating revolution whose time has come."
About ASES:
For more than 50 years the American Solar Energy Society (ASES) has been leading national efforts to promote education, public outreach, and research about solar energy and other sustainable technologies. ASES produces the annual SOLAR 2009 conference, the National Solar Tour, Solar Today magazine and the ASES Green Jobs Report. Please visit www.ases.org for more information.
About CONERGY:
Conergy designs, manufactures, installs and finances solar photovoltaic solutions for major commercial sectors, public agencies, businesses and homeowners through two distinct channels. Conergy's Projects Group focuses on custom solutions for large-scale, energy-intensive enterprises; Conergy's Distribution Group serves a national network of installers, developers and dealers in the grid-tied and off-grid residential realm, while also addressing the needs of small commercial markets. With ten years' market prowess, Conergy has successfully deployed projects totaling over 1 Gigawatt of renewable energy capacity around the world. With operations in 15 countries over 4 continents, Conergy is driving today's clean energy economy via the design, production, installation or financing of close to 1 in 10 of the world's solar energy systems. Learn more at www.conergy.us.
Featured Product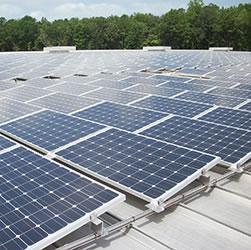 The Power Rail™ Commercial Mounting System is designed with the professional PV solar installer in mind. Both the XD/UD and LD/MD rails feature single tool assembly with the revolutionary patented RAD™ Lock-in-Place bolt for fast and secure module clamping. The high strength marine-grade aluminum rails include an integral wiring channel for securing cables and providing a professional finish.