Aquamarine Power today announces that following a strategic review of the business, it has decided to focus its efforts on the development and commercialisation of its market leading Oyster® Wave Energy Converter. Further development of its tidal stream device, Neptune' will cease.
Aquamarine Power ("Aquamarine" or the "Company") today announces that following a strategic review of the business, it has decided to focus its efforts on the development and commercialisation of Aquamarine's market leading Oyster® Wave Energy Converter. Further development of Neptune, Aquamarine's tidal stream device will cease. The design and intellectual property created as part of the Neptune.' project will continue to be part of the Company's product pipeline but will not undergo further development. Aquamarine will continue to develop tidal sites on a technology "neutral" basis with utility partners.

This approach will enable the Company to accelerate its timetable for commercialisation of Oyster®. Aquamarine already has the key building blocks in place to do this and has contracts in place with Fugro Seacore to commence its installation at the European Marine Energy Centre in the summer and with Airtricity, the renewable energy division of Scottish and Southern Energy to develop sites capable of hosting 1,000MW of marine energy by 2020.
Oyster® has the potential to be the best marine energy device on the market, particularly because of its simplicity, reduced maintenance requirements and its ability to generate power in virtually all sea conditions. Oyster® consists of an oscillating flap, with very few moving parts underwater. It is unique in that it starts generating electricity in almost calm sea conditions and can continue generating even in the worst of storms, making large scale commercial success more achievable for Aquamarine than for its competitors.
Martin McAdam, Chief Executive of Aquamarine commented: "Aquamarine's mission is "Making Renewable Energy Mainstream" and we believe that Oyster® with its ingenious yet simple design has the ability to achieve this. We have developed a clear path for the business, engineering, commercial and site development activities which will ensure the success of Oyster® and enable us to deliver a profitable system to our customers. The decision to stop any further work on Neptune is the right decision for us. We will deploy our engineering team on making Oyster commercial in the shortest possible timeframe."
Martin McAdam added: "We are a multiple technology company. At this stage in our development it makes sense to focus on what will deliver the best commercial device and the best shareholder value."
ENDS
For further information, contact:
Buchanan Communications
Diane Stewart
dianes@buchanan.uk.com
0207 466 5000/ 0131 226 6150
Carrie Clement
carriec@buchanan.uk.com
0207 466 5000/ 0131 226 4427
Or visit www.aquamarinepower.com
Notes to Editors:
Aquamarine Power Ltd
• Aquamarine Power was founded in 2005 by leading marine energy developer, Allan Thomson, and Professor Trevor Whittaker, head of the award-winning wave power research group at Queen's University Belfast.
• Aquamarine Power's senior management team includes CEO, Martin McAdam, who founded Airtricity's US operations, recently sold for £0.75 billion, and COO, Matthias Haag, former General Manager at Shell WindEnergy.
• Oyster® has been designed to capture the energy found in amplified surge forces in near-shore waves. The system consists of a simple oscillating wave surge converter, or pump, fitted with double acting water pistons, deployed near-shore in depths of between 8 and 16 metres. Each passing wave activates the pump which delivers high pressure water via a sub-sea pipeline to the shore. Onshore, the high-pressure water is converted to electrical power using conventional hydro-electric generators.
• In October 2007 Aquamarine Power joined forces with Scottish and Southern Energy's subsidiary, Renewable Technology Ventures Ltd (RTVL), securing a £6.3m investment from SSE and a further £1.5m from Sigma Capital Group plc.
• Aquamarine Power has received significant funding and support from Scottish Enterprise, Highlands and Islands Enterprise, the Technology Strategy Board, the Royal Academy of Engineering, the Engineering and Physical Sciences Research Council (EPSRC) and the Scottish Government.
• Aquamarine Power recently featured in leading environmental business website Greenbang's UK Clean Tech Start-Up Index of 23 top UK new businesses in the clean technology sector. More details at www.greenbang.com.
• Aquamarine Power was named 'Emerging Technology Promoter of the Year' at the Global Renewable Energy Awards 2008. More details at http://www.euromoneyenergy.com/default.asp?Page=11&eventid=ECK50.
Featured Product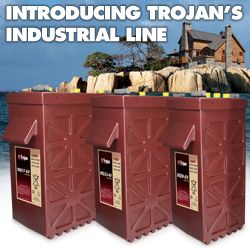 Trojan's deep-cycle batteries provide rugged durability, outstanding performance and long life for use in all types of solar energy installations. With over 90 years of experience, Trojan delivers the world's most reliable and trusted batteries in flooded, AGM, Gel, and Lithium types. These batteries enable solar equipment systems to operate at a peak level of performance in the harshest conditions or the most challenging of locations and are manufactured and tested to IEC standards.