The Solar Alliance and the Vote Solar Initiative announced support for four bills designed to advance solar energy in Arizona. The new legislation would allow Arizona's schools, homes and businesses to take full advantage of the state's strong solar potential.
The Solar Alliance, a national solar trade association focused on state-level policies, and the Vote Solar Initiative, a non-profit organization with the mission of bringing solar energy to the mainstream across the U.S., announced support for four bills designed to advance solar energy in Arizona. The new legislation would allow Arizona's schools, homes and businesses to take full advantage of the state's strong solar potential.

"Thanks to the leadership of the Arizona Corporation Commission, Arizona has the fundamental policies in place to support a healthy and robust solar market. These bills are turbo-chargers: they reduce the cost of doing business, attract new customers, and help bring new jobs to the state," said Adam Browning, executive director of the Vote Solar Initiative.
"Despite these troubled economic times, Arizona's solar market is open for business," said Tom Alston, Solar Alliance lead for Arizona and manger of business & policy development at American Solar Electric, Inc. "We are seeing continued customer interest in solar. These solar bills would arm Arizonans with the sound financial solutions they need to turn interest into action and keep the state's new solar economy moving along."
The four Arizona bills designed to foster in-state economic opportunity in the growing solar energy market include:
• HB 2335 would allow municipalities to set up voluntary, opt-in financing programs for solar and energy efficiency investments on homes. Upfront cost is currently one of the most significant barriers to residential solar adoption. Already in place in other states, this type of city-run financing program helps property owners overcome solar's upfront cost by spreading the system price over an affordable 20-year property tax assessment.
• HB 2332 would make it easier for schools to implement solar and energy efficiency improvements by removing the upfront cost of such facility upgrades. The cost would instead be paid back through monthly savings on the school's utility bills.
• HB 2329 would cap permit fees for solar at $375, bringing much-needed predictability to the cost of installing a new solar energy system.
• SB 1403 would attract high-wage, hi-tech solar manufacturing companies and associated job opportunities to Arizona.
For more information about Arizona's solar energy policies, visit: www.votesolar.org/state-initiatives/arizona.html
With its sunny climate and fast-growing population, Arizona is well-suited for solar energy. The state already has many of the core policies needed to unleash its solar potential. Arizona's largest utilities are required to get 15 percent of their electricity from renewable energy by 2025, with 30 percent of that coming from distributed resources like rooftop solar. These four bills supported by Vote Solar and the Solar Alliance are designed to help energy customers take advantage of Arizona's solar resource and help the state meets its aggressive renewable energy goals.
About the Vote Solar Initiative:
Vote Solar is a non-profit grassroots organization working to fight climate change and foster economic opportunity by bringing solar energy into the mainstream. Since 2002 Vote Solar has engaged in state, local and federal advocacy campaigns to remove regulatory barriers and implement the key policies needed to bring solar to scale. www.votesolar.org
About the Solar Alliance:
The Solar Alliance is a state-focused alliance of global solar equipment manufacturing, photovoltaic (PV) system integrators, and financiers dedicated to accelerating the promise of PV energy in the United States. www.solaralliance.org
###
Featured Product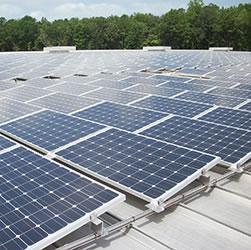 The Power Rail™ Commercial Mounting System is designed with the professional PV solar installer in mind. Both the XD/UD and LD/MD rails feature single tool assembly with the revolutionary patented RAD™ Lock-in-Place bolt for fast and secure module clamping. The high strength marine-grade aluminum rails include an integral wiring channel for securing cables and providing a professional finish.