IntertechPira, a leading conference and research organization is pleased to announce the addition of eSolar, Paul, Hastings, Janofsky & Walker LLP and Virtus Energy to the final program for the 1st annual Concentrating Solar Thermal Power.
Expanding upon the "market trends and development session," Mike Sloan, President and Founder of Virtus Energy will showcase the lessons learned from Texas' wind power success and Peter H Weiner, Partner of Paul, Hastings, Janofsky & Walker LLP will present solar project case studies on wildlife agencies and public/private land rights. Adding on to the "updates and insights from CSP developers" session, Bill Gross, CEO of eSolar will discuss the latest developments and advancements at eSolar.

"We are very pleased with the addition of speakers to the program," said Conference Producer Christopher Smith. "Expanding upon our sessions, these key leaders will provide insights and offer viable solutions on moving forward in this growing market."
Set for June 4 - 5, 2009 at the Hotel Kabuki in San Francisco, CA, US and Co-Chaired by Rainer Aringhoff, President of Solar Millennium and Fred Morse, Senior Advisor for US Operations of Abengoa Solar, this year's program will address the current issues in the utility scale solar arena. Speakers from Abengoa Solar, APS, Ausra, BrightSource Energy, California Public Utilities Commission, Chadbourne & Parke LLP, Ceert, Emerging Energy Research, Ernst & Young, eSolar, Los Angeles Department of Water and Power, Milbank, Tweed, Hadley & McCloy LLP, Navigant, NV Energy, Orrick, Paul, Hastings, Janofsky & Walker LLP, Sandia National Laboratories, Skyfuel, Solar Millenium, SolarReserve, Starpoint Solar, Stirling Energy Systems, Terrafore Inc, US Renewables Group and Virtus Energy will present the latest in market trends and developments, financing and funding as well as updates and insights on technical and systems developments. Additional topics to be discussed include transmission and onsite planning.
For updated program details, please visit: www.cstpower-conference.com
About IntertechPira
IntertechPira provides events, training, online information and publications across a wide range of contemporary issues and technologies affecting industry. Our 100% independent products are provided globally 24/7 and delivered by teams of independent experts at sites in Portland, ME, US and London, UK through 20 specialized industrial platforms. Our core competencies are information on: research and product development, globalization and new markets; production methods; regulatory and compliance.
Featured Product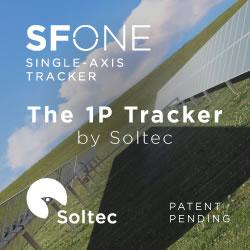 Soltec manufactures and supplies solar trackers designed and proven for extreme climate conditions, which is an ideal solution for any region's environment. Soltec's trackers are self-powered, requiring no additional PV module or grid-powered connection. Bifacial modules collect energy on both the front and rear sides, capturing reflected irradiance from the ground surface under and around the tracker and from other modules. Depending on site conditions, bifacial yield-gain can reach +30 percent.