GreenWaste Recovery and SolarCity Complete 1.8 Acre Solar Panel Installation to Power San Jose Material Recovery Facility
FOSTER CITY, Calif. & SAN JOSE, Calif., April 13, 2009—GreenWaste Recovery, an industry leader in all aspects of recycling, composting and managing solid waste, and SolarCity®, a national leader in solar power system design, financing, installation, monitoring and related services, today announced the completion of a dual-array, 1,502-panel solar power system that will provide renewable power to GreenWaste's Material Recovery Facility (MRF) to process and recover residential and commercial recyclable materials, yard trimmings and solid waste. The MRF solar system is one of the largest commercial solar system installations in the city of San Jose. The 300 kilowatt (DC)-rated solar arrays are expected to produce approximately 408,000 kilowatt-hours of zero-emission solar electricity annually, enough to power approximately 40-50 area homes.

"The project truly reflects the value our company places on green technology and environmental stewardship," said Richard Cristina, president of GreenWaste Recovery. "We are using the power of the sun, a clean renewable energy source, to divert recyclable and compostable materials away from landfills and put them to good use."
GreenWaste's recently completed, "state-of-the-art" MRF is one of the most innovative processing facilities in the world, capable of sorting, recovering and recycling 85 percent of household waste. This 85-percent diversion rate translates into huge volumes of material that are not buried in a landfill, but rather given new life as usable products. Utilizing clean, renewable energy to power its operations allows GreenWaste to further reduce its carbon footprint, air pollution and dependence on fossil fuel.
SolarCity designed and installed the solar arrays—each measuring approximately 50,000 square feet and spreading across nearly 80,000 square feet—on GreenWaste's Material Recovery Facility and transfer station, located at 625 Charles Street, just north of downtown San Jose. SolarCity financed the system for GreenWaste through a Solar Power Purchase Agreement (PPA). SolarCity's PPA allows GreenWaste to put zero money down and lower its annual electricity costs.
"SolarCity's PPA offers the same benefit to businesses that our SolarLease delivers for residents—use clean power and lower your electricity costs," said Lyndon Rive, CEO of SolarCity. "Greenwaste is at the cutting edge of a critical new movement among American businesses, proving that companies can lower their operating costs and lower their pollution and carbon footprint at the same time."
About GreenWaste
GreenWaste Recovery is a locally-based, privately-owned company that has been spearheading the development of innovative and cost-effective recycling and solid waste management practices in Northern California since 1991. GreenWaste and its sister company, Zanker Road Resource Management, Ltd. handle all aspects of solid waste management and own and operate three complimentary processing facilities: a state-of-the-art Material Recovery Facility—the first of its kind facility where recyclable materials and solid waste are processed side-by-side; Zanker Road Landfill—a national leader in construction and demolition diversion, and; Z-Best Composting in Gilroy—where yard trimmings and food waste are transformed into nutrient rich soil amendments. Together, these three facilities provide the most environmentally sound option for communities to address all their collection and recycling needs. Additional information about the company is available on the Web at www.greenwaste.com
About SolarCity
SolarCity—a national leader in solar power system design, financing, installation, monitoring and related services—was founded with the mission to help millions of homeowners and businesses adopt solar power, protect themselves from rising electricity costs and protect their environment from polluting power sources. The company's first-of-its-kind SolarLease' offering can make it possible for homeowners to switch to clean, solar power for less money than they currently pay for electricity. SolarCity currently serves more than 300 communities in California, Arizona and Oregon. Additional information about the company is available on the Web at www.solarcity.com.
Featured Product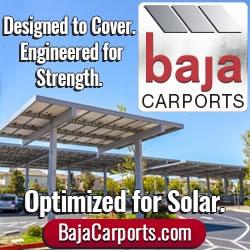 Baja Carports offers an extensive solar support system product line customized to customers' site specifications by in-house engineers, meeting their parking lot coverage, plus optimal PV production needs. Baja's Full Cantilever Tee is often paired with its Semi and Full Cantilever carports to meet live/loads up to 60psf and wind speeds to 160mph. All Baja products are pre-fabricated, bolted connections, pre-galvanized structural steel for fast on-site installation and project aesthetic requirements."