Completes State's Largest Rooftop Solar Installation
April 10, 2009 (Tucson, Ariz.) - SPG Solar, Inc., recently completed Arizona's largest rooftop solar project for one of the world's largest beverage distributors. The 500 kWp solar system was installed at a distribution center in Tolleson, Ariz., to optimize a generous utility rebate, reduce electrical costs and meet the client's environmental stewardship goals.

The completion of the system sparked interest and brought opportunity in the Arizona solar market, leading SPG Solar to establish a permanent operating facility in Tucson, Ariz., in March. SPG Solar's expansion into Arizona follows the trend of continued growth of the company since being founded in Northern California in 2001.
SPG Solar also completed a project for the Wilson School District in Phoenix, Ariz., and is breaking ground on seven new projects for the City of Tucson that will combine to deliver nearly 1 megawatt of clean, renewable energy to the city.
"SPG Solar believes in fostering sustainable practices that not only benefit the environment but the communities in which we live and work," says Dan Thompson, President and CEO of SPG Solar. "Our recent projects and expansion in to Arizona will continue to create jobs and further those practices."
SPG Solar collaborated closely with the City of Tucson to make their solar project a reality, helping the city utilize government bonds to maximize the city's return on investment in solar. The City of Tucson solar projects consist of a combination of roof top arrays and ground mounted Sunseeker® single axis tracking systems, developed by Thompson Technology Inc.
SPG Solar worked with the City of Tucson to develop, engineer, and plan the construction of each site to optimize system performance and thus increase the financial and environmental benefits of the project.
"We commend the team at the City of Tucson," says Thompson. "I am personally thrilled to be a part of the City of Tucson's vision. It has been a complex process to get here but now with permits in hand and bonding in place we are making their renewable energy projects a reality."
As one of the premier solar integrators in the industry, SPG Solar maintains a strong alliance with Kyocera Solar, headquartered in Scottsdale, Ariz. By leveraging established relationships with leading Arizona-based solar firms like Kyocera, and the experience and expertise from building over 1,300 solar projects throughout the Western United States, SPG Solar is primed to accelerate the adoption of solar in Arizona, delivering clean, renewable energy and green collar jobs throughout the state.
In addition to their new Arizona headquarters in Tucson, SPG Solar has offices and building facilities throughout California.
###
About SPG Solar, Inc.
SPG Solar, Inc. is a proven leader in the design and installation of photovoltaic power systems. With over 1,300 grid-connected PV systems in service throughout the Western United States and a senior staff with decades of experience in electrical engineering, construction and project development, SPG Solar provides its customers with the very best in solar technology and professional design-build services. SPG Solar delivers innovative and dependable solar systems with the highest quality of workmanship from the initial customer consultation to the final system commissioning and post installation analysis. For more information, please visit: www.spgsolar.com.
Featured Product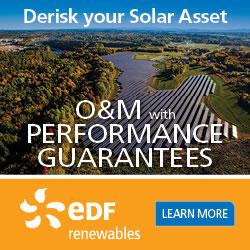 EDF Renewables offers the same innovative solutions that maximize the performance of our own 5.2 GW of installed projects. Because we're not an equipment manufacturer, our recommendations are transparent and data-driven. We cover the entire project lifecycle: from pre-commissioning support, through warranty and post warranty operation, to late stage and decommissioning.