CH2M HILL has completed the initial phase of the Los Angeles County Solar Mapping Portal, the largest solar map in terms of geographic area to date. The solar map can be viewed at http://lacounty.solarmap.org.
CH2M HILL has completed the initial phase of the Los Angeles County Solar Mapping Portal, the largest solar map in terms of geographic area to date. The map enables the county to accurately estimate the solar potential of government facility rooftops and for all residents to view existing solar photovoltaic (PV) installations in the city, including those on residential, commercial and government buildings. It also shows the amount of solar that has been installed per zip code. The solar map can be viewed at http://lacounty.solarmap.org.

The initial phase was to obtain and evaluate stereo aerial imagery for the areas of Los Angeles County that contain county municipal buildings (approximately 1,100 buildings). CH2M HILL has created 3D models for each of the 1,100 county municipal buildings and is delivering the PV potential for each.
Government buildings in the portal were mapped with CH2M HILL's S.A.F.E.' technology. S.A.F.E. estimates the solar potential of a rooftop by accurately measuring elements of a rooftop structure (including air conditioning units and ducting), the azimuth or direction of the sun, shadows cast by other structures and the slant of the roof. Utilization of the S.A.F.E. estimates optimizes solar installations and reduces the need for costly on-site assessments.
"By mapping every municipal building and solar installation in the county — approximately 3,000 square miles— L.A. County has successfully lifted potential barriers to large-scale solar implementations," said David Herrmann, client solutions director, CH2M HILL's Enterprise Management Solutions. "Because of the technology installed today, future county solar installations will not only maximize the potential for collecting the sun's power, they will go from the drawing board to implementation faster."
"Solar power is a proven technology for meeting our energy needs while reducing our carbon footprint. As a major electricity user, with facilities spread across a wide geography, L.A. County is a natural test-bed for the implementation of solar energy systems," said Howard Choy, Energy Division Manager, with L.A. County. "California's passage of SB1, the 'California Solar Initiative,' has ensured the prominence of solar power in the state through rebates for solar installations and the streamlining of the permitting process. The Solar Map is just one more step towards making solar energy a meaningful reality in the lives of L.A. County residents."
CH2M HILL began work on the L.A. County Solar Map in January 2009. The Solar Map leverages the most detailed large-area solar potential model in the world, covering more than 3,000 square miles. The level of detail means that residents and solar installers do not need to go up on every roof to see if it can support solar, saving time and money. The ultimate goal is to make the site a "one-stop solar shop" for residents and businesses in Los Angeles County.
The County of Los Angeles will realize the following benefits from the Solar Mapping Portal:
Increased access to information - the Solar Mapping Portal establishes a Web-based method of visualizing site-specific solar placement, tying technical, financial and contractor data in a consumer friendly manner.
Enhanced productivity - the portal reduces costly on-site solar PV surveys that now can be accomplished in minutes from the office.
Public Benefit - Provides a common reference to quickly inform government and the public of the benefits of solar.
Enhanced investment - An authoritative source of information will encourage greater countywide buy-in and add solar to many more County buildings.
Response to state and federal goals - the portal will lead to wider use of renewable clean energy that will meet local, state and federal goals.
Improved collaboration - A single location for information will help aggregate potential solar projects into a larger, single County-funded program.
Cost Savings - wider use of solar on County facilities will reduce utility consumption and thus lower the County's utility budget.
In addition to its solar solutions, CH2M HILL Enterprise Management Solutions is the leader in carbon management systems integration. For further information about CH2M HILL's sustainability solutions, please visit www.ch2m.com/solarmapping
.

About CH2M HILL
Headquartered near Denver, Colo., employee-owned CH2M HILL is a global leader in engineering, procurement, construction, management and operations for government, civil, industrial and energy clients. With $6.4 billion in revenue and more than 25,000 employees, CH2M HILL is an industry-leading program management, construction management and design firm, as ranked by Engineering News-Record (2008). The firm's work is concentrated in the areas of energy, water, transportation, environmental, nuclear and industrial facilities. The firm has long been recognized as a most-admired company and leading employer, including being named by FORTUNE as one of the 100 Best Companies to Work For (2009). Visit www.ch2mhill.com.

CH2M HILL Enterprise Management Solutions (EMS) is an industry-leading IT management system integration consulting and solution development business. EMS provides a unique ability to leverage its core lines of business—consulting, enterprise spatial, enterprise collaboration, integrated security and emergency preparedness, program management and managed IT services—to provide capabilities that span the entire client enterprise.

For more information about CH2M HILL EMS visit: www.ch2m.com/ems .

###


Featured Product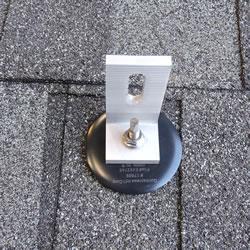 SolarRoofHook's Low Profile QuickBOLT with Microflashing™ is the industry's affordable, UL Certified Asphalt Shingle mounting system. The Microflashing™ is compressed by the collar on the bolt to create a water-tight seal. With an installation time of less than one minute, the Low Profile QuickBOLT allows installers to complete more jobs.