Bullfrog Power, together with Enbridge Gas Distribution, EnerWorks, and the Government of Canada today announced the launch of a new Solar Water Heating Program.
Ottawa, April 30, 2009 -

Bullfrog Power, together with Enbridge Gas Distribution, EnerWorks, and the Government of Canada today announced the launch of a new Solar Water Heating Program. Solar water heating allows homeowners to reduce their energy costs and environmental impact by harnessing the sun's energy through the installation of their own solar water heating systems.
At the time of purchase, qualifying homeowners will receive a substantial savings on the purchase and installation of their own solar water heating systems. These savings are made possible through the Government of Canada's ecoENERGY for Renewable Heat program and volume discounts from EnerWorks. Interested homeowners may also qualify for further rebates and credits through the ecoENERGY Retrofit-Homes program, provincial rebates and the new Home Renovation Tax Credit. This limited-time offer will give homeowners in the Enbridge Gas Distribution franchise area the opportunity to save up to 50 per cent on their own solar water heating systems. They may also reduce their ongoing water heating energy costs by up to 60 per cent and financing for the installation is available from as little as $56 dollars a month.
"By investing $1.4 million in this project, the Government of Canada will help generate new economic activity in Ontario, while reducing energy costs and harmful emissions," said the Honourable Lisa Raitt, Minister of Natural Resources. "This is another example of how we are investing in projects that will stimulate the domestic clean energy industry, create jobs for Canadians and help boost our economy."
Bullfrog Power, Canada's leading 100 per cent green electricity provider, is pleased to participate in a program that helps Ontarians conserve energy and save money.
"New technology, active energy conservation activities and green power are all effective ways that homeowners can reduce their environmental impact," said Tom Heintzman, President, Bullfrog Power. "Through this new Solar Water Heating Program, we are happy to provide another option that makes it easy for Ontarians to support renewable energy."
"Enbridge Gas Distribution is a leader in energy efficiency and continues to advance sustainable energy solutions that will lead us towards a clean energy economy," said Arunas Pleckaitis, Vice President, Enbridge Gas Distribution. "Often our approach is to partner with other organizations, such as Bullfrog and EnerWorks, that bring a special competency or unique solution to the specific energy challenge we are facing. Together with Enbridge's market delivery capabilities, we are able to provide an integrated high-value solution that customers will find attractive."
The program uses solar water heating systems manufactured in Ontario by EnerWorks. The systems are Canada's first solar water heaters to receive all-season CSA certification. Local, certified contractors will professionally install each unit purchased. The integrated system is composed of three parts—solar panels, an energy pack and a solar storage tank—that work together to meet a household's primary demand for hot water, while the existing water heater provides a secondary heating source. Solar water heating does not affect the quality or the availability of the hot water. The systems provide a clean, cost-effective way to reduce water heating costs, while also significantly reducing greenhouse gas emissions and air pollution.
"This Solar Water Heating Program represents a fabulous opportunity for homeowners to realize the economic and environmental benefits of heating their water with the renewable power of the sun, while taking advantage of significant additional incentives and discounts," says Dr. Phil Whiting, EnerWorks President and CEO. "EnerWorks is very pleased to be participating in this program and to support the environmental efforts of companies such as Bullfrog and Enbridge Gas Distribution."
Installation of a solar water heater is straightforward and completed by a trained and certified installer. Homeowners can arrange for a free site inspection to determine if the system is right for their home. EnerWorks-certified contractors will professionally install the systems quickly and efficiently, and help book the ecoENERGY Home Retrofit audits for further rebates and incentives. More information about the installation steps and pricing is available at www.bullfrogpower.com/solar or call 1-866-775-8808.
A limited number of integrated systems are available under the program.
About Bullfrog Power
Bullfrog Power is Canada's leading 100 per cent green electricity provider. Founded in 2005, Bullfrog Power is the only company providing everyone in Ontario, Alberta and British Columbia with a 100 per cent low-impact renewable electricity choice. Bullfrog Power supplies bullfrogpowered customers exclusively from wind and hydro facilities that have been certified by Environment Canada under its EcoLogoM program, instead of carbon-intensive sources. Bullfrog Power customers are providing the demand to enable new generation facilities to be built in Canada. Thousands of Canadian homeowners and hundreds of businesses have made the decision to become bullfrogpowered'. www.bullfrogpower.com
About Natural Resources Canada
Natural Resources Canada (NRCan) promotes the sustainable and economic development of our natural resources while improving the quality of life of Canadians. NRCan is responsible for the ecoENERGY initiatives through which the Government of Canada is investing more than $3.9 billion to increase Canada's supply of clean, renewable energy and to help Canadians reduce their energy costs and emissions. www.nrcan.gc.ca
About Enbridge Gas Distribution
Enbridge Gas Distribution has a 160-year history and is Canada's largest natural gas distribution company. Enbridge Gas Distribution is owned by Enbridge Inc., a Canadian-based leader in energy transportation and distribution. As a distributor of energy, Enbridge owns and operates distribution services in Ontario, which distributes natural gas to about 1.9 million customers in Ontario, New York State, New Brunswick and southwestern Quebec.
About EnerWorks
EnerWorks Inc. is a leading North American solar thermal technology provider. With proven, patented technology and certified systems, EnerWorks offers high quality, reliable and cost effective renewable energy solutions to the North American market.
EnerWorks develops and manufactures proprietary renewable energy appliances for residential, commercial and industrial markets. In the residential market, EnerWorks's solar water heating appliances are fully certified, ENERGY STAR® qualified, and the first system meeting CSA international standards for all seasons in Canada. They complement existing water-heating systems and provide users with clean energy and a real reduction in energy costs. In the commercial and industrial markets, EnerWorks is at the forefront of integrated solar thermal solutions, working with local partners to design, install, commission and maintain solar thermal heating and cooling systems.
www.enerworks.com
Featured Product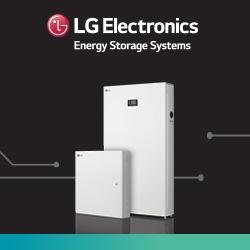 The NeON R module features "Back Contact" cell technology delivering an entirely black panel that is aesthetically pleasing and energy efficient. The cell's seamless, surface blends perfectly into nearly all rooftop designs while the module's electrodes are positioned on the rear of the cell. Using LG's N-type cell structure, the panels produce 365W of energy, up to 7.3kWp, compared to 5.8kWp of the p-type cell. The module's new design minimizes LID, thereby delivering a longer lifespan and increased energy output.