- World GDP $65 trillion, global stimulus $7 trillion - Global oil reserves remaining: 43 years - Global atmospheric carbon at 386 ppm highest level for 40 million years - In 150 years human activity released 20 million years CO2 accumulation - Australian Government budgets two weeks away
In every great crisis, there is also great opportunity. Rebuilding long-neglected infrastructure and investing in research, new technologies and sustainable energy are part of what will define the new economic opportunity in the 21st century.

The challenge today is to embed green economic policy into national and state budgets.
Last month, a new UN report, The Global Green New Deal, part of the UNEP Green Economy initiative, called for one third of the world's $2.5 trillion worth of planned stimulus packages to be invested in greening the world economy.
UNEP figures show that in recent years 2.3 million people have found new jobs in the renewable energy sector alone. There is great potential for job growth in the sector, with combined employment in wind and solar power expected to rise to 8.4 million by 2030.
Investments in improved energy efficiency in buildings could generate an additional 3.5 million green jobs in Europe and the United States alone.
This is backed by government investments around the world - for example, in the US, President Obama's American Recovery and Reinvestment Act of 2009 delivering $787 billion in expenditure includes a range of measures that collectively is expected to leverage nearly $100 billion in clean energy projects. These projects will include the creation of a bigger, better, smarter electric grid, increased energy efficiency and green jobs training.
In particular is advancing public investment in solar, wind, wave, biomass and geothermal, not only because of energy security, but also because these "green jobs" are the wave of the future.
Renewable energy and energy efficiency technologies accounted for 9 million jobs in 2007. As many as 37 million jobs could be created in the next two decades if we aggressively expand public and private investment today.
These new "green economy" jobs reflect a significant economic trend that is exciting smart investors.
The WA Sustainable Energy Association Inc. (WA SEA), the business chamber for the sustainable energy industry, is focused on removing the barriers to and promoting opportunities for the commercialization of sustainable outcomes for energy in Australia.
"WA SEA would like to see policy and program measures to develop more sustainable outcomes embedded in annual Government Budget processes," says Dr Ray Wills, CEO of WA SEA.
"An integrated, whole-of-government approach is a key element in tackling emissions reductions and establishing sustainable energy solutions."
"As a starting principle, we must ensure that steps are not taken in isolation and that all opportunities to include multiple outcomes are explored. In many cases, this can be achieved by placing caveats on existing programs to ensure that the program also contributes an outcome for sustainable energy and so is therefore without cost, or represents only a minimal additional cost."
"Government must ensure that policies and regulations support, and do not hinder, the integrated development of renewable energy technologies. Any policies and regulations continuing to bias towards conventional high emissions energy development must be addressed. WA SEA sees a common problem where two or more elements fall in separate government portfolio areas, and an absence of integration of complementary measures within government fail to recognize and deliver the full value of potential measures to support industry."
"Program coverage must include maximising research and development, education and skills training, and include life cycle analysis of outcomes across portfolios of the built environment (including housing), infrastructure and transport relating to all of government, business and industry, and the community."
"To boost the growth of industries across the sustainable energy portfolios, Australian Governments must support change and overcome resistance to change from the traditional industry base - especially key sectors in the building, transport and traditional energy generation industries."
"With Australia's world-class resources in renewables, it is logical that extensive research and development funding for long-term research programs that focus on Australian advantage are put in place."
"The Federal Government can lead through statutory change, policy and planning of infrastructure, support for education and research and through its market power in procurement policies. "
"Similarly, as well as the above measures, the Western Australian Government has a critical role to play given the mix of energy intensive industries in the State that have the potential to be be powered by the world's best concentration of renewable energies in one place - Western Australia."
WA Sustainable Energy Association Inc. (WA SEA) Media Release - 1 May 2009
Media Contact:
Dr Ray Wills 0430 365 607
Editors notes:
1. Remaining oil reserves estimate of 43 years based on consumption 1,317,000 million barrel reserve/84 million barrels used per day. (Oil & Gas Journal, World Oil).
2. The Western Australian Sustainable Energy Association Inc. (WA SEA). www.wasea.com.au.
Featured Product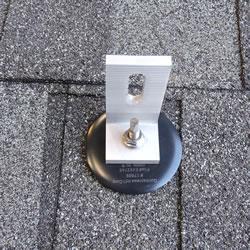 SolarRoofHook's Low Profile QuickBOLT with Microflashing™ is the industry's affordable, UL Certified Asphalt Shingle mounting system. The Microflashing™ is compressed by the collar on the bolt to create a water-tight seal. With an installation time of less than one minute, the Low Profile QuickBOLT allows installers to complete more jobs.