Alliance will rapidly progress Camelina technology
(CINCINNATI - June 9, 2009) Great Plains Oil & Exploration - The Camelina Company has announced a formal partnership with Agragen, LLC. Great Plains, the largest producer of Camelina oil in the world has forged an alliance with Agragen, a biotechnology company which modifies Camelina sativa to increase desirable traits, including oil content, viability in expanded locations, and resistance to disease, weeds and pests.

Camelina is an oilseed crop used to produce next-generation biofuel. More than 15 million miles have been driven using Camelina-based biodiesel from Great Plains' production. Additionally, Camelina meal offers an
excellent alternative to other sources of meal used in the livestock industry, giving producers a high protein meal, rich in omega-3 fatty acids.
Agragen has been developing Camelina through agronomic and genetic improvements over the past 14 years. Agragen operates out of lab facilities in Helsinki, Finland, and North Dakota.
Through this partnership, Great Plains will have exclusive access to Agragen's technology, intellectual property, and patents for growing Camelina. Agragen's extensive portfolio currently includes nine major
Camelina-based patents, four patents pending, and numerous additional intellectual property licenses related to the improvement of Camelina. Agragen also has exclusive access to the majority of the world's commercial Camelina germplasm. Great Plains will use these extensive resources to continue to improve
Camelina, supporting its plans for rapid Camelina acreage expansion.
"This agreement formalizes the partnership between the largest producer of Camelina and the leader in Camelina technology," said Great Plains CEO Sam Huttenbauer. "Agragen's technology and extensive germplasm will be used to develop a diverse collection of commercial varieties which will provide increased
yields and better crop performance. This will rapidly improve the already-lucrative return for growers and extend the range of suitable geographies for Camelina."
Great Plains recently announced that 2009 will be the biggest year on record for Camelina growth. The company increased its contracted acreage by more than 200 percent versus 2008. The expected yield from this acreage provides commercial scale for what has been described by a major aviation manufacturer as one of the most promising sources for renewable fuel.
Great Plains currently contracts with growers in 12 states in the US and four provinces in Canada. The company plans to expand commercial growing in existing locations and at least five more states and one additional Canadian province in 2009.
About Great Plains Oil & Exploration
Great Plains Oil & Exploration (Great Plains - The Camelina Company) is a renewable fuels company which pioneered the manufacturing and marketing of fuel and chemicals from Camelina. Great Plains is the established
leader in the field of Camelina agronomy and production. Great Plains has developed a grower base and production facilities from which it produces and supplies commercial quantities of biofuel as well as high-protein, omega-3 rich animal feed. More information can be found at CamelinaCompany.com.
About Agragen
Agragen, LLC is based in Cincinnati, Ohio, with research centers in Helsinki, Finland, and Grand Forks, North Dakota. With its exclusive access to the vast majority of the world's germplasm, Agragen uses its expertise in Camelina biotechnology and its breeding program to enhance the desired properties of the
crop.
Featured Product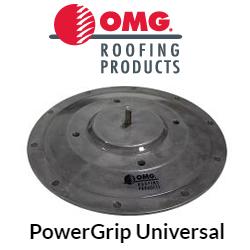 Eliminate Solar Rack Ballast and Reduce Rooftop Material Handling. PowerGrip™ Universal (PGU) is a commercial roof mount system designed to secure solar racks and other equipment to any type of commercial roofing system. PGU provides a secure connection directly to the roof deck or structural members and is designed to reduce or eliminate ballast in solar racking systems, so there's less weight on the roof and less material handling. Made of heavy-duty cast aluminum, PGU units include a base ring which is secured through the roofing cover and into the structural roof deck, and a waterproof top plate.