It is official! ASP is now selling monocrystalline solar panels manufactured with one hundred percent American made components.
Lake Mary, Fl., June 17, 2009 - Advanced Solar Photonics (ASP), the cutting-edge developer of monocrystalline solar panels manufactured with one hundred percent American made components announced today that its SunPanels' are now on sale.

"We are excited to announce that Advanced Solar Photonics is officially taking orders, ", said ASP's Corporate Marketing and Public Relations Manager, Maureen McHale. "Any order placed now will only have a four to eight week lead time."
Over the last few years, Advanced Solar Photonics has focused on becoming a fully integrated solar solution provider. Through strategic partnerships, ASP has been able to keep costs down and offer the competitively priced SunPanel' turn-key system. This solution will include a patented method for ground installation, mounting, inverter, wiring and all the necessary hardware components. Combined, these factors enable ASP to offer a lower cost on the balance of the system.
"ASP is essentially a one stop shop for solar energy solutions because we are fully integrated. Whether you're an installer or distributor looking to purchase just the solar panels or have the need for a full turn-key system, we'd like to talk to you about our competitively priced solar solutions. We are actively growing our installer and distributor network as we build our manufacturing facility up to a 500MW production plant", said McHale.
ASPs' manufacturing plant is slated to grow in 50MW increments over the next two years to reach the 500MW capacity. The monocrystalline silicon SunPanels' being produced are one of the most efficient solar modules on the market today. After years of product development - including research and development, manufacturing process development, fabrication and product testing, engineering, and factory construction, ASP is officially open for business with SunPanels' now on sale.
"When looking at other manufacturers and deciding which panel you'd want to sell or even install in your own home, it's important to know, unlike any other company, ASPs' monocrystalline panels are 100% made from US components. Additionally, ASP is the only manufacturer of solar panels in the state of Florida and strives to be the largest solar manufacturing plant in the United States", said McHale.
Advanced Solar Photonics, (ASP) located in Lake Mary, Florida employs an international team of technology driven professionals. ASPs' monocrystalline solar panels and commercial solar solutions for the photovoltaic industry are ideal for residential, commercial and utility projects. For more information about our company and our solar solutions, please call (407) 804-1000 or visit our website at http://www.advancedsolarphotonics.com.
Featured Product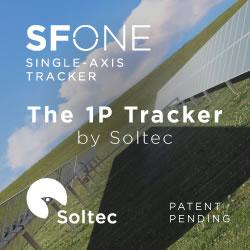 Under the slogan "engineered for greatness", the SF8 tracker aims to revolutionize the photovoltaic market with its new minimum 2x60 configuration and 4 to 6-strings. This tracker is elegantly designed while it reinforces its structure to perform in any terrain. In addition, the SF8 tracker increases the rigidity of its structure by 22% more than the previous generation of Soltec trackers, the SF7. The SF8 is specially designed for larger 72 and 78 cell modules, an increasing market trend.