Vista, California  Blue Sky Energy, Inc., a leading manufacturer of photovoltaic (PV) charge controllers is once again pushing PV system price/performance standards with the addition of diversion charge control in its' SB3024i /iL product line.
The Diversion control upgrade allows a 3024 to provide diversion type charge control for hydroelectric, wind or similar generator type power sources while at the same time and within the same unit providing MPPT type PV charge control.

The DUO-Option diversion control is offered as a software upgrade for all existing SB3024i or iL solar charging units. According to V.P. of Operations, Melanie Cullen " We are really excited to be able to offer our Solar Boost Diversion upgrade. Customers can now use existing or new SB3024i/iL controllers and add the upgrade option to allow both MPPT solar charging and provide diversion control at the same time in the same charging machine. The DUO-Option upgrade will provide for up to 20 amps diversion control. When diversion control up to 60 amps dump load is required we have a new high current adapter module available."
According to Richard A. Cullen, President of Blue Sky Energy, "a key aspect of the Diversion Control upgrade is it's coordinated interaction with PV charge control. With the Diversion Control upgrade, when battery voltage climbs to the charge voltage setpoint the PV power controller remains in MPPT to continue extracting maximum PV power. While maximum PV production continues, Diversion Control diverts power to a dump load to reduce net current flowing to the battery and control battery voltage. This coordinated interaction provides both proper multi-stage battery charge control, and delivers maximum available power to the dump load for useful purposes such as heating water. Should the dump load be unable to absorb enough power to control battery voltage, PV power will be reduced as necessary to assist in controlling battery voltage all the while delivering as much power as possible to the dump load.
Blue Sky Energy is now able to provide products to the micro wind and hydro markets in addition to solar charging. Units in the field can be upgraded easily by installing a new microprocessor. For large orders and OEM applications units can be shipped preprogrammed with the DUO-Option.
Blue Sky Energy's patented MPPT charge control technology delivers up to 30% increased charge current. Blue Sky Energy designs and manufacturers quality MPPT charge controllers for 12, 24 and 48 volt applications. Product is sold through a variety of dealers and distributors throughout the US, Canada, and renewable energy companies internationally. Contact Blue Sky Energy, Inc. @ 760-597-1642, 800-493-7877 or visit us on the web at www.blueskyenergyinc.com.
Featured Product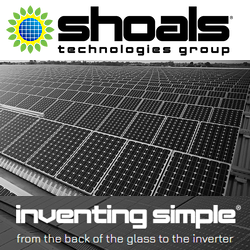 Inventing Simple® isn't just a slogan to us, it's a way of life. Using simple plug-and-play ideology, we revolutionized solar installations in 2003 with our Interconnect System™. Our harnessing system is now the gold standard EPC's use around the world. By using simple ideas, we are making solar energy a more affordable and clean power source for future generations.