Installation of a Solar powered LED lighting system.
Matrix Energy Inc., a leading wholesaler and systems integrator of renewable energy solutions, is pleased to announce the City of Beaconsfield has recently completed the installation of a Solar powered LED lighting system.

The lack of lighting in the park had become a problem for some local residents, who had indicated a need for lighting to improve security. Since there is no electricity service in the park, this stand alone solar photovoltaic (aka PV or solar electric) system appealed to Mr. André Gervais, Project Manager with the City's Public Works Department: "This solar powered LED lighting system answers security concerns, allowed us to avoid the costly extension of power lines and helps in advancing sustainable development in the City", says Mr. Gervais.
The system, designed and supplied by Matrix Energy Inc., was installed in Royal Park in the north end of the City and is able to provide lighting in the park during evening hours throughout the year. The system's solar panels charge batteries during the day and the LED floodlights are powered by the batteries in the evening via an integrated timer. The LEDs have an expected lifetime of an impressive 50,000 hours.
Featured Product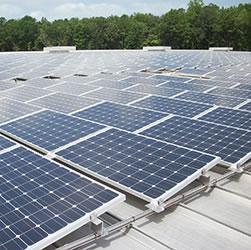 The Power Railâ"¢ Commercial Mounting System is designed with the professional PV solar installer in mind. Both the XD/UD and LD/MD rails feature single tool assembly with the revolutionary patented RADâ"¢ Lock-in-Place bolt for fast and secure module clamping. The high strength marine-grade aluminum rails include an integral wiring channel for securing cables and providing a professional finish.