Despite of the current economic crisis, the development of energy sector is growing up. The EE & RES Congress and Exhibition in 2009 reinforced its position as the leading technology and marketing event for South East Europe as the number of the exhibitors is double in comparison with 2008.
CONGRESS SPEAKERS

At the 3 days of the Congress were presented 43 speakers from Austria, Bulgaria, Chech Republic, Germany, Greece, Hungary, Italy, Serbia, Spain, The Netherlands, Turkey, and UK. Big interest and discussions provoked the following panels:
• EE&RES Federation and Networking in South East Europe.
Till now the Federation has been supported by Bulgaria, Greece, Turkey, Romania, and Serbia. Austria has been invited to be also a member.
• Solar Parks bigger than 1 MW (The Lesson learned in Germany and Spain, Plans for South East Europe)
• Problems for Grid RES Connection in SE Europe
• Wind Energy experience in SE Europe
Parallel to the Congress ORGALIME and CENELEC organized the Workshop ELECTRA - Doing Business with Energy Efficiency.
CONGRESS PARTNERS
The Congress was supported by the European Commission, European PV Industry Association, Bayern Innovativ, German and Austrian Embassy, Austrian Federal Ministry of Agriculture, Forestry, Environment and Water Management, Sofia Municipality, Atlantic Club in Bulgaria, Austrian Energy Agency,
CONGRESS ATTENDEES
The forum was attended by more than 400 industry specialists from 28 countries: Austria, Belgium, Bosnia and Herzegovina, Bulgaia, Canada, Croatia, Czech Republic, Denmark, France, FYROMacedonia, Germany, Greece, Greece, Hungary, India, Italy, lreland, Norway, Poland, Portugal, Romania, Serbia, Slovenia, Spain, Switzerland, Turkey, UK, and USA.
BREAKDOWN BY POSITION
Executive Management - 59%
Sales & Marketing - 18 %
Technical and legal consultants - 15 %
Media - 5 %
BREAKDOWN BY TOP 5 BRANCHES
RES - 36%
EE - 12%
Consultant services - 9%
Power Engineering - 9%
Financing - 7%
TESTIMONIALS
Excellent organization, interesting lecturers and very attractive exhibition.
Bojan Kovacic - Serbian Energy Agency
The congress was very successful, well organized with good speakers and audience.
Viki Georgakopoulou - Greek Ministry of Development
Impressive number of participants at the Congress and Exhibition!
Alexander Zachariou - Solar Cells Hellas, Greece
Thank you for the perfect event.
Dean Marcelja - ECRE Guessing, Austria
Through the exhibition we succeeded to present our products to the clients by the best possible way. There was very big media interest due to which the forum attracted big number of highly specialized experts and businessmen. The event was extremely good organized in details so that to make both the exhibitors and visitors feel comfortable.
Sevateh Bulgaria
Very good organization. We will take part in 2010 again!
AMANDUS KAHL, Germany
The exhibition organization was perfect. I do believe we will work in the future again!
Mila Babacheva - American Way Bulgaria
As a tradition the Congress strategic partner is Germany.
The confgress as well as the exhibition have covered all types of renewable energy, so this event is a major step in promoting alternative sources of energy. All exhibitors at the German pavilion benefited from the huge interest this event created. For sure, we will come back next year
Torsten Fuhrberg - MCO GmbH, Germany
This year the country of focus was Austria. Active part for recruiting Austrian participants took the Austrian Energy Agency and the Austrian trade section to the embassy in Bulgaria. Mr Angerer - the Commercial Counsellor at the Austrian Embassy in Sofia said "I am pleased to tell you that the comments were very good. The Austrian companies appreciated that the EE & RES exhibition was specialized and attracted only visitors with concrete interest in these topics. I was positively mentioned as well that the fair was relatively short - 3 days - and therefore not so time consuming. We believe that we will be able to attract more Austrian participants for the next fair scheduled for April 2010."
EE & RES is developing better and better in this part of Europe, even in a year of crisis. The strategic partnership with the more advanced EU member states, particularly with Germany, and the know-how transfer helps a lot to accelerate the EE & RES development in South East Europe. The Congress efforts to network the experts gives its first positive results and we are happy for the foundation of the EE & RES Federation for SE Europe in 2009. The unification will help the Region to move faster forward. Energy Efficiency needs an improvement in all South East European countries and Solar, Wind, Bio and Geo are trendy already in all of them.
V.P. Koch - Gate East, Germany
EXHIBITION
124 Exhibitors
Growth of the Exhibitors number
2009 - 90 %
2008 - 27 %
2007
3219 visitors from Bulgaria, Austria, UK, Belgium, Bosnia & Herzegovina, Brazil, Germany, Greece, Israel, India, Ireland, Spain, Italy, China, Latvia, FYROMacedonia, UAE, Poland, Portugal, Rumania, Russia, USA, Slovenia, Serbia, Turkey, Ukraine, Hungary, Finland, France, the Netherland, Croatia, Czech Republic, Switzerland, Japan
Top 5 visitors activities
• Construction
• Power Engineering
• RES trade, Production and Consulting
• Energy Saving Technologies and Products
• Investment
Over 60% of the visitors were decision makers and approx. 31 % - technical, consultant and sales specialists
The main conclusion of the 5th Congress was that the Region of South East Europe is too much behind the rest of Europe concerning the development of EE & RES market. So the governmental authorities, public sector and the business must be more active for creating of new business opportunities and smart energy consumption, new high tech jobs and new level of the education. The participants hope the next years will be the time of Eco-Tech expansion in South East Europe.
The Focus country for 2010 will be Italy. Germany will be again the strategic partner of the event.
The Congress will add also a new hot topic in its program - efficient electro-mobility and solar mobile systems.
You are most welcome to participate at the 6th International EE & RES Congress and Exhibition for South East Europe - 14 - 16 April 2010!
Featured Product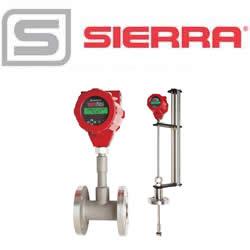 Sierra was the first to introduce a combination volumetric vortex and multivariable mass flow meter in 1997. Today, Sierra's completely redesigned InnovaMass® iSeries™ 240i/241i builds on two decades of success measuring five process variables for gas, liquid and steam with one connection. Now, with the latest hyper-fast microprocessors, robust software applications, field diagnostic and adjustment capability, and a new state-of-the-art flow calibration facility, Sierra's vortex iSeries delivers precision, performance, and application flexibility never before possible.