A new £1million Infrastructure Grant Programme (IGP) to encourage the installation of recharging points for electric vehicles and facilities to supply alternative transport fuels is now open for business.
The programme is being managed by Cenex, the UK's Centre of Excellence for Low Carbon and Fuel Cell Technologies, on behalf of the Department for Transport (DfT).

With the aim of assisting the UK Government's strategy to decrease carbon emissions from road transport, the programme will make £1m of initial funding available until March 2011 to develop alternative refuelling infrastructure including charging points for electric vehicles, and hydrogen and natural gas/biomethane filling stations.
Robert Evans, CEO of Cenex, said:
"I am delighted that the DfT has appointed Cenex as delivery partner for this exciting new programme and very pleased that the IGP is now underway. For fleet operators the cost of installing refuelling or recharging infrastructure has always been a barrier to switching fuel use. This programme will encourage operators to accelerate the introduction of lower-carbon technologies into the UK vehicle market, thereby helping cut the UK's total carbon emissions."
The programme will support the deployment of facilities for alternative fuels, providing grants for the infrastructure necessary to fuel environmentally friendly vehicles that cut carbon and pollutant emissions.
Rosie Snashall, DfT Electric Vehicles and Policy Manager, said:
"We are very pleased to be working with Cenex, given their expertise in low carbon technologies and their understanding of the market. As our delivery partner, Cenex will leverage the demand from organisations wishing to install refuelling or recharging stations for vehicles, thus enabling them to bring down the costs of reducing carbon for everyone."
The key aspects of the IGP are:
Application for the grant must be made and accepted by Cenex before the investment in infrastructure commences.
Grants will be awarded to applications that fulfil the specified quality criteria.
Final grant awards will be determined by an independent panel.
The refuelling station must be open for third-party access, and the refuelling site must be based in the UK.
Eligible costs for new refuelling and recharging stations will be refuelling/recharging infrastructure hardware costs, cost of labour (excluding project management) and the cost for civil engineering and ground works for the project.
Funding from other local, regional, national or European community sources for the same eligible costs is not permitted.
Cenex will be hosting information days in July, August & September 2009 across the UK to discuss what the programme encompasses, how to apply for funding and the quality of projects required from applicants. More details, including eligibility criteria and grant information are available at www.cenex.co.uk/IGP
Featured Product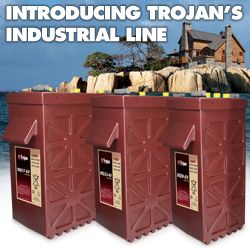 Trojan's deep-cycle batteries provide rugged durability, outstanding performance and long life for use in all types of solar energy installations. With over 90 years of experience, Trojan delivers the world's most reliable and trusted batteries in flooded, AGM, Gel, and Lithium types. These batteries enable solar equipment systems to operate at a peak level of performance in the harshest conditions or the most challenging of locations and are manufactured and tested to IEC standards.