Solar technology experts will gather in Tempe, Arizona next week for the U.S. Department of Energy's second photovoltaic workshop. TÜV Rheinland PTL will present at the workshop and host a tour of its facilities. Its partner, TÜVRheinland, is sponsoring.
NEWTOWN, CT and TEMPE, AZ/July 24, 2009 - Solar technology experts and manufacturers will gather next week in Tempe, Arizona for an international workshop on photovoltaic reliability. The event is hosted by the National Renewable Energy Laboratory, a national laboratory of the U.S. Department of Energy's Office of Energy Efficiency and Renewable Energy, and is sponsored by TÜVRheinland®, the leading provider of testing and certification services for companies entering the global marketplace.

The "International Photovoltaic Reliability Workshop II" is the DOE's second workshop on photovoltaic technology. This year's event focuses on "Removing Barriers to Photovoltaic Technology Adoption: Reliability, Codes/Standards, and Market Acceptance." TÜVRheinland's partner in solar technology, TÜV Rheinland PTL, LLC, the world's largest solar and photovoltaic testing service, is playing a major role in the workshop as a presenter.
"The reliability of photovoltaic modules in real-world operating conditions is very important to protect the interest of consumers and the manufacturers' warranty period," said Dr. Govindasamy Tamizhmani, President of TÜV Rheinland PTL. "This workshop is designed to discuss the reliability and other measurement issues faced by the industry today."
Dr. Tamizhmani is joining Jeffrey Nelson of Sandia National Laboratories for the Welcome and Opening Remarks. The presentation follows the July 29th morning tour of TÜV Rheinland PTL's test laboratory. The tour also covers the Arizona Public Service (APS) Star Facility and the 2 MW solarization of Arizona State University's Tempe Campus.
Currently, TÜV Rheinland PTL, in conjunction with ASU and APS, is conducting long-term outdoor exposure testing at the APS Solar Test and Research (STAR) center for modules made with the new EVA formulations. The outdoor exposure testing is expected to continue for the next 10 years.
Additionally, TÜV Rheinland's PTL Bindu Raghuraman will discuss "ISO 17025 QA Certification Testing Processes" from 9:40 - 10 a.m. and Dr. Tamizhmani will later join Jeffer Granata of Sandia in a discussion of "Reliability and Accelerated Aging Methodologies and Observations" from 1:40 - 2:20 p.m.
TÜV Rheinland PTL and Sandia have been working together for over 15 years. In fact, TÜV Rheinland PTL recently announced it won a two-phase, 16-month photovoltaic module testing and analysis contract with Sandia. The contract provides Sandia a third-party, commercial resource to carry out its proprietary photovoltaic testing method. Once trained in this testing module, TÜV Rheinland PTL will provide extensive commercial testing services using the Sandia method and maintain a Web-based public database from which the industry will benefit. Sandia will be discussing this proprietary testing module at the workshop as well.
On the last day of the event, William Shisler of TÜV Rheinland PTL will present a "Summary of Emerging CPV Safety Standards" from 9:40 - 10:20 a.m.
The event will be held at the Tempe Palms Hotel in Tempe, Arizona from July 29-31. For more information, visit www.nrel.gov/pv/ipr_workshop.html.
About TÜVRheinland®
TÜVRheinland® delivers premier independent testing, assessment, and certification services to help companies gain access into global markets. Boasting an international network across six continents, the company's in-country experts ease the path to compliance with cost-effective pricing and quick turnaround times. The $1.5 billion corporation is comprised of an international network of more than 13,300 employees in 61 countries and serves most industry sectors and markets worldwide. For more information, visit www.us.TÜV .com.
###
Featured Product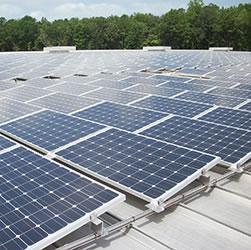 The Power Rail™ Commercial Mounting System is designed with the professional PV solar installer in mind. Both the XD/UD and LD/MD rails feature single tool assembly with the revolutionary patented RAD™ Lock-in-Place bolt for fast and secure module clamping. The high strength marine-grade aluminum rails include an integral wiring channel for securing cables and providing a professional finish.