Future Power PA Inc (FPPI) has announced today the company's "Good Spring IGCC" power plant with carbon sequestration will seek matching funds from round three of the Department of Energy's "Clean Coal Power Initiative" (CCPI) program.
Good Spring, PA - September 14, 2009 - Future Power PA Inc (FPPI) has announced today the company's "Good Spring IGCC" power plant with carbon sequestration will seek matching funds from round three of the Department of Energy's "Clean Coal Power Initiative" (CCPI) program.

The grant may accelerate the construction and commissioning of an advanced 270-megawatt Integrated Gasification Combined Cycle (IGCC) electricity plant utilizing local anthracite with carbon dioxide sequestration capabilities. The power created by this project would serve the PJM West electricity market and meet Alternative Energy Portfolio Standards required in Pennsylvania. The carbon dioxide would likely be sequestered in locations interconnected by pipelines so future sites and converted incumbent plants may also sequester carbon. The latest engineering and chemistry reports for FPPI indicate the facility will exceed the Energy Policy Act of 2005 (EPACT) standards set for 2020 at start-up.
The technology to utilize coal with such low emission levels results from a global effort of the best resources available from the largest coal-bearing countries in the world. Although the project will be manufactured, constructed, and commissioned in the United States, vital gasification technical expertise from China's Thermal Power Research Institute (TPRI) has been licensed by FPPI. China Huaneng Power Group (NYSE:HNP) is the controlling and majority owner of TPRI and is the largest power utility in China.
"The cooperation between TPRI and FPPI for GreenGen in Tianjin and Good Spring in Pennsylvania is good for IGCC and CCS development in China and the U.S." said Mr. Wu, Vice President of China Huaneng Power Group.
The unique location of the project requires almost no fuel transportation or electric power transmission costs commonly associated with such plants. Those savings provide funding for the expensive carbon dioxide sequestration activities as well as profit for investors.
"We believe these projects must be financially viable so private industry can work in tandem with government in a way to make progress without significant burdens on taxpayers and ratepayers. Too many projects are not financially viable and thus unsustainable. We would like to do many similar projects in the United States if this first one is successful," stated Raj Suri, CEO and President of Future Fuels, the majority shareholder of FPPI.
President of FPPI, Jim Palumbo added, "There is much work to be done. With this project, we will create more than 1,000 jobs to construct the facility followed by hundreds to run the plant. If the funding comes through, we'll be ready to move that much faster."
FPPI expects an evaluation and decision by the US Department of Energy in the coming months.
About Future Power PA Inc
Future Power PA Inc (FPPI) is a majority owned and controlled joint venture of Future Fuels LLC of Houston, Texas and Immersive Media Corporation (TSXV:IMC). Houston-based Future Fuels LLC develops clean coal gasification projects. It holds land, coal reserves, technology licenses and other project related assets. FPPI's Good Spring IGCC is one of the power projects being developed by Future Fuels, which is currently developing similar projects in other parts of the world. For more information, visit www.futurefuelsllc.com.
About China Huaneng and TPRI
With over 100 Gigawatts of power generation and nearly 150 plants wholly or partially managed by the company, Huaneng Power Group is one of the largest utilities in the world. As controlling owner of the Thermal Power Research Institute (TPRI), Huaneng has created a near-zero emission coal electricity plant called GreenGen in Tianjin, China. GreenGen is currently under construction and expects to be producing power in 2011.
Contact:
Mr. Nicholas Cohen
COO - FPPI
(570) 840-5835
Mr. Jim Palumbo, PE
(570) 342-5200
Email: jpalumbo@quad3.com
Featured Product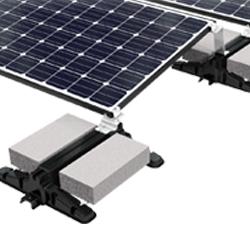 Preformed Line Products introduces the POWER MAX Ballasted Roof Mounting System. The POWER MAX solar mounting system is engineered to maximize energy output on commercial flat roofs. Developed with the professional installer in mind, this system offers adjustable inter-row spacing in the field of up to 11 inches. It features 50% fewer components and a simplified design resulting in faster assembly rates and labor savings on every project. Available in a flush mount, 5Ëš or 10Ëš tilt or higher density dual tilt design, the POWER MAX base arrives stacked on pallets providing easier transport to the roof. Engineered as a fully ballasted, non-penetrating system, it accepts standard concrete blocks and is qualified by wind tunnel testing.