Tracker Saves Costs on Installation and Maintenance
NOVATO, CALIF. -Oct. 2, 2009 - Thompson Technology Industries (TTi) has developed a new generation of the Sunseeker® Single Axis tracker. This new generation allows for increased height of the system and mounting on uneven surfaces while saving 10 to 15 percent on installation and maintenance costs.

This tracker breaks TTi's previous standards in the industry with the ability to drive even more panels in a slightly increased "footprint" over the previous generation. Output is increased without sacrificing energy production. With even fewer motors, operation and maintenance are lower and the tracker does not require field welding for installation.
"The tracker maintains our leadership position in the industry," says Thomas Rooney, chief executive officer of TTi. "The new generation takes into account the feedback from our customers to continually simplify installation and reduce overall costs."
Savings are realized by the option to pile drive the support posts, which is less expensive and quicker to install. The tracker now has the advantage that allows it to increase the height to 78" and still meet a windspeed of 90mph with the panels at 45 degrees.
The tracker delivers faster installation than traditional cement foundations and I-beams now come standard with purchase and priced into the tracker system cost.
"The tracker was modified to replace 4", schedule 40 support and driveline posts with I-Beams as support mounts," says Emil Johansen, TTi senior design engineer. "The I-Beams can be easily driven into the ground eliminating the need for a concrete based foundation. This makes it environmentally friendly and allows for easy site reclamation at the end of contracted lease periods."
TTi also increased the thermal expansion tolerance of the system which enhances operation in severe heat. The finish on fasteners and bolts has been upgraded to automotive industry standards for increased corrosion tolerance and life. Ultra high molecular weight poly ethylene, UV stabilized bushings and rollers also increase life beyond industry standards. The Sunseeker® Single Axis tracker now can drive up to 400kWp DC in one block array of 150' by 400' on one 1.5hp motor.
###
About TTi
TTi is a worldwide leader in the design and manufacturing of innovative solar photovoltaic (PV) products. Founded by experienced building contractors and solar installers, TTi develops and builds its products for ease of use, elegance in design, and quality and longevity in performance.
From the high-performance SunSeeker® Single-Axis Tracker to the sleek and efficient Flat Jack® roof mount, TTi offers the latest tracking technology and the most dependable mounting systems for solar photovoltaic installations.
By offering fresh, innovative solutions for your market's ever-changing installation needs, including the Floatovoltaic™ water-floating PV system, TTi is moving energy forward.
Companies worldwide rely on TTi's products -- which are designed to the highest manufacturing standards in the world, field-tested and include best of breed technologies. All are patent pending. TTi wants to be your partner for leading edge PV products and installation solutions.
Featured Product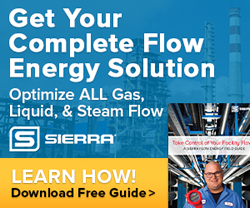 Download Flow Energy Guide - Written by Engineers For Engineers. Learn how to save on energy costs by optimizing your facility flows that impact costs like compressed air, natural gas, steam, and hot or chilled water.