Lunera Lighting Set to Offer Next Generation LED Lighting to Commercial Market
Redwood City, CA (October 13, 2009) - Lunera Lighting, a designer, manufacturer, and marketer of next-generation digital LED lighting technology, is set to begin selling its premium products of ultra-thin, energy-efficient LED light panel fixtures. The company will initially target the commercial general lighting market. Lunera was founded and is led by a broad range of top industry influencers, lighting physicists, engineers, artisans, and marketers. Lunera began shipping products during the fourth quarter of 2009.

"Our objective is to be the leader in developing the full potential of LED lighting for general commercial use," said Don Peifer, Lunera co-founder. "Our business model is to include all the necessary expertise inside one company and create a fixture that delivers on the promise of energy savings and elevates the quality of light for a facility's occupants."
Peifer and business partner Mark Walsh started Lunera Lighting in December 2007 with the intention of bringing the next generation of digital solid-state light (SSL) LED light to the commercial market. They envisioned transforming lighting into an efficient digital technology and uniquely approached the challenges by designing a complete fixture lighting system.
"We wanted to make a difference that people can see when they enter a commercial space, said Michael Lesyna," Lunera President and CEO. "Lunera is committed to producing superior products, following sustainable green building practices, and striving for the highest level of customer satisfaction."
The resulting technology has been applied to grid lay-in and suspended fixture formats, both of which are UL certified and will be showcased by Lunera at Greenbuild 2009 (booth 1658, lower level).
Lunera's digital LED fixtures enables the following benefits to building owners, facility asset managers, lighting designers/specifiers, lighting and LEED consultants, and electrical contractors:
• Lower Energy Costs: Lowers energy consumption/cost of electricity by approximately 35%
• Save on Maintenance: 10-15 year life reduces lighting maintenance costs
• Improve Quality of Light: Uniform light distribution to reduce glare and shadows, unique blend of LEDs create "digital daylight"
• Qualify for LEED: Lower power, dimmability, absence of Mercury, and lower HVAC load contribute to LEED certification
• Help the Environment: Decreased energy consumption reduces carbon footprint; Fully recyclable fixtures, RoHS complaint, no hazardous materials
• Enhanced Design: Ultra-thin profile in suspended, grid, or fixed mounted configurations that can make a design statement
• Easy to Install: No change in existing electrical infrastructure or ceiling grid requirement.
While requiring 35% less electricity than comparable fluorescent lights, the Lunera LED fixture offers better overall light quality. With an expected service life of over 50,000 hours, the product is virtually maintenance-free. Lunera lights, which are made in the United States, are RoHS compliant and are UL, ETL, and FCC certified.
About Lunera Lighting
Lunera Lighting is a technology innovator leading the transformation of lighting from traditional fluorescent lighting to energy-efficient LEDs that produce soft, uniform light.
It designs, manufactures, and markets high-performance commercial LED lighting fixtures for the replacement of common fluorescent fixtures. The company has created new lighting solutions for commercial building occupants that lower operating costs for building owners and reduces the carbon footprint.
Made in the USA, Lunera's products adhere to clean manufacturing standards. Lunera products are particularly attractive to clients seeking LEED certification, since LED lighting substantially impacts LEED points in "green" buildings. The company is a firm believer in social responsibility and has made it a part of their corporate philosophy.
For more information, visit http://www.lunera.com
2009 Lunera Lighting. All rights reserved.
Specifications are subject to change without notice. Lunera Lighting, the Lunera logo, and Life in a New Light are trademarks of Lunera Lighting, Inc. All other trademarks are the property of their respective companies.
Featured Product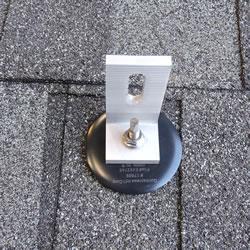 SolarRoofHook's Low Profile QuickBOLT with Microflashing™ is the industry's affordable, UL Certified Asphalt Shingle mounting system. The Microflashing™ is compressed by the collar on the bolt to create a water-tight seal. With an installation time of less than one minute, the Low Profile QuickBOLT allows installers to complete more jobs.