EIA-endorsed program offered by Kessler Advisors is designed specifically to meet needs of solar energy manufacturers, distributors and installers; provides business and employee coverages
WASHINGTON, DC - The Solar Energy Industries Association today announced a breakthrough insurance program available to its member companies. SEIA is endorsing an insurance offering by Kessler Advisors (https://www.kessleradvisors.com/solar) to provide one-stop insurance coverage specifically designed to meet the needs of solar manufacturers, distributors and installers.

"Lowering costs and increasing profitability is central to the success of any business. Balancing these objectives is difficult in this economy. That is why it is critical that the solar industry comes together and uses their collective buying power to lower cost for all companies," said SEIA President and CEO Rhone Resch. "This new, first-of-its-kind insurance coverage is designed specifically to protect solar energy businesses and their employees at competitive premium rates. It will help solar companies at any level- from local installers to global solar manufacturers and developers - grow their businesses and attract a highly talented workforce to this emerging industry."
"Our goal for every client is for them to feel comfortable at night knowing that their business is protected and safe," said Kessler President Ken Kessler. "We have provided a one-stop shopping experience for all SEIA members. From the large manufacturer of PV who has international operations and needs risk management services to the smaller installer who's looking for additional guidance for coverages and assistance in their day to day operation, this program satisfies the needs and wants of all members."
This SEIA-endorsed insurance program includes the following types of coverage:
* General Liability
* Workers' Compensation
* Group Medical & Dental
* Surety
* Property
* Professional Liability (Design-Builders, Architects, and Engineers)
* Motor Vehicle Liability
SEIA members benefit from:
* Premium Discounts
* Broader Coverages
* Custom Safety Manual
* Less than 24-hour Certification Issuance
* Industry-Specific Risk Management Services
* Online Safety Training Modules
* OSHA Appeals, lnspections and Audit Support
* Human Resources and Labor Law Assistance
For more information, visit the SEIA and Kessler booths at Solar Power International in Anaheim. SEIA can be found at booth 3254 and Kessler Advisors will be at booth 239.
About SEIA:
Established in 1974, the Solar Energy Industries Association is the national trade association of solar energy industry. As the voice of the industry, SEIA works to make solar a mainstream and significant energy source by expanding markets, removing market barriers, strengthening the industry and educating the public on the benefits of solar energy. Learn more at www.seia.org.
Follow SEIA President & CEO Rhone Resch on Twitter: http://twitter.com/RhoneResch; SEIA is on YouTube (http://www.youtube.com/thesolarindustry) and Facebook (http://www.facebook.com/pages/Solar-Energy-Industries-Association/112495296809)
About Kessler:
For more than 50 years Kessler had provided the highest levels of expertise and service to some of the nation's fastest growing companies. We utilize a unique team concept that provides maximum customer support. Our team members are your advocates, thoroughly evaluating each facet of your business operations and your current coverage's to minimize your risk and maximize your peace of mind. Learn more www.kessleradvisors.com/solar or contact Scott McClure, Kessler Advisors, 310.309.2230, smcclure@kessleradvisors.com.
###
Media Contacts:
Jared Blanton, SEIA, 202.556.2886, mhanis@seia.org
Mark Sokolove, Tigercomm, 703.302.8382, mark@tigercomm.us
Scott McClure, Kessler Advisors, 310.309.2230, smcclure@kessleradvisors.com
Featured Product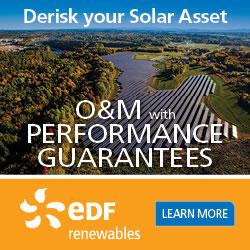 EDF Renewables offers the same innovative solutions that maximize the performance of our own 5.2 GW of installed projects. Because we're not an equipment manufacturer, our recommendations are transparent and data-driven. We cover the entire project lifecycle: from pre-commissioning support, through warranty and post warranty operation, to late stage and decommissioning.