REHAU will hold an educational training on the advantages of cross-linked polyethylene (PEXa) ground loop in geothermal applications at the 2009 International Ground Source Heat Pump Association (IGSHPA) Technical Conference and Expo in Grapevine, Texas. REHAU is also an exhibitor at booth No. 36.
REHAU announced it will hold an educational training on the advantages of cross-linked polyethylene (PEXa) ground loop in geothermal applications at the 2009 International Ground Source Heat Pump Association (IGSHPA) Technical Conference and Expo, Oct. 21-22 in Grapevine, Texas. The 90-minute training will take place on Thursday, Oct. 22 at 3:30 pm onsite at the Gaylord Resort and Convention Center.

"IGSHPA's recognition last fall of PEXa pipe and compression-sleeve fittings for geothermal applications has sparked a great deal of interest in this alternative piping technology across the U.S.," said Scott Emery, business unit manager, civil engineering and infrastructure at REHAU. "We are excited to be educating those at this year's conference about the technical performance advantages of a PEX-based system, including ease of installation, enhanced reliability and single-source integration with systems such as radiant heat."
The training will provide an overview of the portion of IGSHPA's "Design and Installation Standards" guide that recognizes the combination of PEXa pipe and compression-sleeve fittings as an approved piping system. It will also include hands-on demonstrations with product components, as well as a review of installation techniques.
"Before last October, the IGSHPA standards guide dictated exclusive use of non-cross-linked high-density polyethylene (HDPE) pipe," Emery said. "A PEX-based system offers several significant benefits when compared to traditional HDPE, and our training is focused on helping the market to fully understand and embrace them. Among others, these include removing joints from the borehole field, facilitating individual circuit control, improving pipe mechanical properties, and in certain conditions, offering in excess of 20-percent total borehole length reduction."
Previous to their employment in U.S. geothermal systems, PEXa pipe and compression-sleeve fittings have been used for several decades in such applications as hydronic piping, radiant heating, snow and ice melting, water service and distribution, and residential fire protection. Also, REHAU's RAUGEO™ ground loop heat exchange system has been used in Europe for years, and is already being included in several North American projects. The RAUGEO heat exchange system is additionally applicable to the American Recovery and Reinvestment Act's (ARRA) uncapped 30-percent tax credit for residential geothermal heat pump installations, and uncapped 10-percent grant for commercial project owners.
REHAU will exhibit its recently expanded line of RAUGEO ground loop heat exchange system components at booth No. 36, as well as the company's complementary systems and innovative technologies. These include:
RAUGEO PEXa Pipe
RAUGEO PEXa pipe is manufactured using REHAU's high-pressure peroxide method of crosslinking polyethylene, and features a coextruded grey PE UV shield that protects the pipe against ultraviolet light for extended periods. The U-bend tips are then encased in a glass-reinforced resin, providing enhanced protection during handling and borehole insertion. All RAUGEO PEXa pipe meets or exceeds the requirements of ASTM F876, F877, CSA B137.5 and PPI TR-3, and is produced in REHAU's ISO 9001 certified manufacturing facilities.
Double U-Bend: Offering the ability to connect two double U-bends to a manifold and facilitate reverse-return header fabrication, RAUGEO Collect pipe is available in 3/4-inch and 1-inch sizes in 500- and 800-foot coil lengths. It is rated for continuous operation of 160 psi at 73.4ºF (1105 kPa at 23ºC), 100 psi at 180ºF (690 kPa at 82.2ºC) and 80 psi at 200ºF (550 kPa at 93.3ºC). In addition, 1 1/4-inch CTS pipe is now available in 500-foot coil lengths for use in horizontal geothermal ground loop field installations. It is compatible with compression nut fittings and fittings certified to ASTM F2080 and CSA B137.5.
Single U-Bend: RAUGEO single U-bends are recognized by the IGSHPA "Design and Installation Standards" guide as an accepted piping system for vertical ground loop heat exchangers. They are specially designed for use in residential geothermal systems, where thermal energy requirements do not necessitate the use of a double U-bend. RAUGEO single U-bend pipe is available in 200-, 250- and 300-foot coil lengths.
Polymer Manifold
REHAU's new high-strength polypropylene geothermal manifold offers many advantages over the typical reverse-return header, including placement of all connections in a single, centralized location, which minimizes the need for in-field fittings that can increase both installation time and the potential for failures. Ball valves enable flow control for each ground loop, and ground loop isolation capabilities allow for continued system operation while individual ground loop failures are addressed. Optional flow meters and a pressure and temperature gauge facilitate easy system monitoring, allowing the user to keep flow conditions optimal. Fusion welds result in joints equally as strong as header pipes. The new polymer manifold is offered with 2-20 outlets to accommodate both 1- and 1 1/4-inch diameter pipe.
REHAU ECOAIR™ Ground-Air Heat Exchange System
The REHAU ECOAIR™ ground-air heat exchange system provides improved indoor air ventilation, enhanced energy efficiency and increased comfort in alignment with the fresh air requirements of today's tighter building envelopes. It capitalizes on the relatively consistent 45°F to 54°F (7°C to 12°C) ground temperatures found 5 to 7 feet (1.5 to 2 meters) below the earth's surface where, previous to entering the indoor ventilation system, fresh air is pre-warmed with ground heat in winter, and pre-cooled with cooler ground temperatures in summer. In addition to directly reducing the energy required to heat or cool incoming fresh air, the system provides a number of benefits to overall ventilation system optimization. These include lowering relative humidity during periods of cooling, and hindering condensation from freezing in heat recovery ventilators (HRV) during the heating season by raising the outside air temperature before it enters the HRV.
The REHAU ECOAIR ground-air heat exchange system is comprised of an air inlet, filtering and condensation management components, rigid PVC pipe and fittings. The smooth-walled pipe offers good heat conductivity to promote exceptional ground-to-air heat transfer, while also facilitating effective condensation discharge. It has a unique, silver particle-enabled inner layer that inhibits microbial growth, as tested and verified by SGS Institut Fresenius in Taunusstein, Germany to ASTM Standard E2180. The silver material is also registered with the EPA for use as an antimicrobial in HVAC applications.
Integrated PEXa System Solutions
Radiant Heating System: Providing one of today's most comfortable and efficient types of heat, REHAU's radiant heating system circulates heated water through RAUPEX crosslinked polyethylene (PEXa) pipe installed beneath a floor's surface. It additionally includes the EVERLOC compression-sleeve fitting system and pre-assembled PRO-BALANCE manifolds. The system's consistent operating temperature range (90° to 140°F, or 32° to 60°C) is also ideally compatible with alternative energy sources such as geothermal heat exchange.
Snow and Ice Melting System: REHAU's innovative hydronic snow and ice melting (SIM) system is designed to quickly and efficiently remove snow and ice from vehicle or pedestrian pathways. SIM systems minimize snow removal and accompanying costs, as well as the need to apply salt or other melting agents that can be corrosive to many surfaces. Installed underneath or within an outdoor ground surface, the system includes RAUPEX pipe, the EVERLOC fitting system and PRO-BALANCE manifolds.
RAUPANEL™ Radiant Heating System: REHAU's RAUPANEL system is a lightweight and easy-to-install dry panel radiant heating system ideal for both new construction and retrofit applications. The system is composed of 3/8-inch RAUPEX pipe, aluminum panels and wood return bends, with a low 5/8-inch profile that minimally impacts overall floor height. It can greatly reduce job site preparation and installation time, as it requires no added structural support or concrete overpour.
For more information, contact: REHAU, 1501 Edwards Ferry Rd., N.E., Leesburg, Va., 20176. Phone: 1.800.247.9445. Fax: 1.800.627.3428. E-mail: rehau.mailbox@rehau.com. Web site: www.na.rehau.com/cei.
REHAU delivers "Unlimited Polymer Solutions," and is the premium worldwide brand for polymer-based innovations and systems in construction, automotive and industry. The company generates continuous growth through its expertise and innovative capabilities in materials development, systems design and surface technology. Approximately 15,000 employees at more than 170 locations around the world ensure success of the independent, privately held company.
-# # #-
Featured Product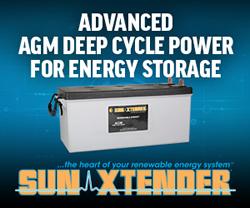 Sun Xtender® Deep Cycle AGM Batteries for renewable energy storage are manufactured in the USA by Concorde Battery Corporation and are built to the same demanding standards crucial to supporting the aircraft industry. To facilitate maximum conductivity & charge acceptance Sun Xtender® batteries are constructed with copper alloy corrosion free terminals & robust intercell connections. Endurance and optimal float life are achieved through plates thicker than the industry standard. Sun Xtender® Batteries' AGM maintenance free design is an ideal solution for off grid and grid tied systems.