Sacramento Company's Solar Power Producing Recycled Plastic Products New Thin Film Solar System for the production of 100% Post-Consumer Recycled Plastic Containers
Sacramento Company's Solar Power Producing Recycled Plastic Products
New Thin Film Solar System for the production of 100% Post-Consumer Recycled Plastic Containers
Sacramento, CA, October 22, 2009 — Plastic Package Inc., a Sacramento, California manufacturing company, is now forming plastic using solar power. Already a significant manufacturer of green 100% post consumer recycled plastic containers, Plastic Package, Inc. has committed to using power from the sun in its manufacturing processes.
Largest Cylindrical Thin Film Solar System West of New Jersey
The company has selected an innovative solution by installing the largest cylindrical thin film solar system west of New Jersey. This cutting edge technology produced by Solyndra, a Bay Area company recently funded by a $535 million loan guarantee from the Department of Energy, will be installed by Premier Power Renewable Energy (OTCBB: PPRW) of El Dorado Hills.
New Solar System will provide all of the company's Peak Demand energy needs
The new 208 kW system being installed on the roof will initially handle all of Plastic Package's peak demand and assist its local power provider, Sacramento Municipal Utility District (SMUD) in reducing its summer peak loads during the hottest part of the day.
With solar, the production peaks simultaneously with energy demand. As the sun heats up into midday, power demand increases. With the sun higher in the sky the output from the rooftop solar system is increased. With the addition of a white membrane roof, Solyndra boosts production even further.
Solyndra has devised the cylindrical modules that enable its solar panels to capture sunlight over a 360-degree photovoltaic surface. "If you build a better solar panel, the world will beat a path to your door," U.S. Energy Secretary Steven Chu said. "Building a better solar panel is what Solyndra has done. Compared to traditional solar panels, these innovative thin-film systems produce more energy for less money and less hassle."
This fact was not lost on Jim Kaye, Plastic Package Inc.'s Chairman, and Jennifer Kaye, the company President. The Kayes had done their homework over the last couple of years in researching solar technologies and investigating solar integrators that could provide them with a packaged solution that would help them to offset their increasing electrical consumption as their business grew. When they heard about the advantages of Solyndra they were ready to make the decision to go solar, and they chose Premier Power as the Integrator.
Steps Toward Making The Plastics Industry a Green Business
"The plastics business is not normally thought of as a green business", said Jim Kaye, "but we are making major strides in that direction by using recycled soda bottles as well as bio-based materials in our products. Now that we've added solar, we want to let the community and our clients know, so they can feel comfortable that when they use our packaging, they are part of the sustainable process".
About Plastic Package
Plastic Package, Inc. is a Sacramento based business. Established in 1970, it specializes in the design and production of plastic containers for food products, including chocolate confections, agricultural and baked goods, as well as products for the medical, electronic and retail industries. For more information visit www.plasticpack.com or call 800-356-6900.
About Premier Power
Premier Power Renewable Energy, Inc. is a leading global EPC (Engineering, Procurement and Construction) provider of solar power systems for small to large commercial, agricultural, utility, municipality and government applications. For more information, contact us at www.premierpower.com or 916-939-0400.
# # #
John Reed, Media Relations
Premier Power Renewable Energy, Inc.
El Dorado Hills, CA
jreed@elevatorpr.com
(415) 846-4862
Featured Product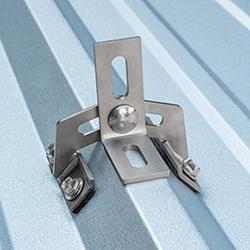 QuickBOLT Low Profile QuickBOLT with Microflashing™ is the industry's affordable, UL Certified Asphalt Shingle mounting system. The Microflashing™ is compressed by the collar on the bolt to create a water-tight seal. With an installation time of less than one minute, the Low Profile QuickBOLT allows installers to complete more jobs.