Stop by booth 635 at the AWEA Small and Community Wind expo for a free product demonstration. Ask about a FREE VENTUS unit for field testing this winter.
Lufft, of Falbach Germany, has been manufacturing precision meteorological monitoring equipment for over 125 years. Last year, Lufft either provided a compelte system or a component for 99.9% of all road weather stations installed throughout Europe. This year Lufft moved to the United States for the first time opening its first distributorship in Santa Barbara, California. Lufft will be exhibiting at the AWEA Small Wind and Community Exposition in Detroit, MI November 2-5 2009. Stop by booth 635 for a product demonstration of the WS600, from the Lufft line of all in one weather stations as well and the VENTUS turbine control anemometer. Along with these products Lufft offers a variety of other climatic sensors for use in any environmental condition.
Two years ago, Lufft introduced the WS series of compact ultrasonic weather stations. The VENTUS model is ideal for wind turbine control applications and other instances where precise measurement of wind speed and direction is required in cold climates. The model includes a 200W heater for use in cold weather climates and covered design with heated roof. Lufft USA is offering a demonstration unit free for six months to anyone interested in testing this product in field applications. WS200-WS600 and VENTUS wind sensor models are designed with different levels of functionality to meet specific weather monitoring applications. The top-of-the-range model, WS600- measures temperature, humidity, precipitation, air pressure, wind direction and wind speed. The sensor data can be polled wirelessly through the UMB (Universal Measurement Bus) system.UMB is new technology for recording environmental data. Free firmware updates and data transfer over RS232, RS485 or CDMA modem. All UMB sensors can be polled by means of a standard protocol. To request more information contact sales@lufftusa.com
www.lufftusa.com
www.ws600.com
www.umb-technology.com
www.lufft.de
Featured Product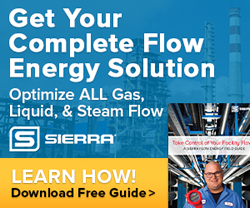 Download Flow Energy Guide - Written by Engineers For Engineers. Learn how to save on energy costs by optimizing your facility flows that impact costs like compressed air, natural gas, steam, and hot or chilled water.