Article Examines Carbon Sciences and the Growing Carbon Capture and Recycling (CCR) Sector.
Santa Barbara, CA - November 5, 2009 - Carbon Sciences, Inc. (CABN), the developer of a breakthrough technology to recycle carbon dioxide (CO2) emissions into gasoline and other portable fuels, reported today that FUEL magazine published an article written by the company's CEO exploring the benefits of carbon dioxide recycling (CCR) technology and its implications on the world's energy and climate challenges. The article can be viewed here: http://www.hartfuel.com/20090901/lemons.html

"Recycling provides an efficient approach to produce renewable fuels," notes Elton. "It mitigates CO2 emissions and curbs demand for imported oil, enabling energy independence as well as providing the most direct path to produce renewable fuels utilizing existing infrastructure, including supply chain and vehicles to ensure cost-effective and non-disruptive deployment."
Elton offers insight on the challenges and opportunities presented in the use of CO2-to-fuel technology, including the regulations on carbon dioxide emissions that could be cemented as soon as December when the United Nations meets in Copenhagen, Denmark for the Climate Change Summit.
"As regulations to meet international greenhouse gas reduction targets loom, large carbon-emitting facilities around the world are faced with tough and very expensive issues about what to do with their greenhouse gas emissions. If targets are not met, companies will be heavily fined, and eventually the damage to the planet's ecosystems will be irreversible."
Recognizing the significant benefits that CCR can provide, Elton challenges conventional wisdom that says CO2 will be sequestered underground. "Until recently, the main approaches contemplated by large emitters for mitigating CO2 are geologic and ocean storage. These methods, however, have challenges concerning energy requirements and the viability of long-term storage. In addition, the cost of monitoring and leak prevention of the stored CO2 is an ongoing process that leaves uncertain success and currently no commercial deployment."
FUEL magazine is written for refining, transportation and government policy executives as well as analysts, investors and business partners within these industries. It profiles accomplishments and innovation within the energy industry.
About Carbon Sciences, Inc.
Carbon Sciences Inc. is developing a breakthrough technology to recycle carbon dioxide (CO2) emissions into the basic fuel building blocks required to produce gasoline, diesel fuel, jet fuel and other fuels. Innovating at the intersection of chemical engineering and bio-engineering disciplines, we are developing a highly scalable biocatalytic process to meet the fuel needs of the world. Our solution to energy and climate challenges is to enable a sustainable world of fuel consumption and climate stability by recycling CO2 into fuel. For example, Carbon Sciences' breakthrough technology can be used to recycle CO2 emitted from fossil fuel power plants into gasoline to run cars and jet fuel to fly aircraft. To learn more about the Company, please visit our website at http://www.carbonsciences.com.
Featured Product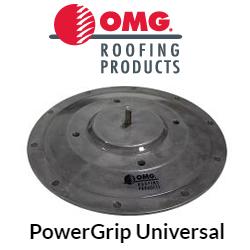 Eliminate Solar Rack Ballast and Reduce Rooftop Material Handling. PowerGrip™ Universal (PGU) is a commercial roof mount system designed to secure solar racks and other equipment to any type of commercial roofing system. PGU provides a secure connection directly to the roof deck or structural members and is designed to reduce or eliminate ballast in solar racking systems, so there's less weight on the roof and less material handling. Made of heavy-duty cast aluminum, PGU units include a base ring which is secured through the roofing cover and into the structural roof deck, and a waterproof top plate.