National HVACR Educators and Trainers Conference goes green. Featured speakers from the EPA, DuPont, United Association. A green and sustainable technologies mobile classroom will be at the conference to show first hand how buildings can be more energy efficient.
HVACR equipment is only as good as the quality of the installation. In order for the HVACR industry to develop a highly trained workforce, there needs to be a commitment to quality education and training.

Quality education coupled with continuing education and certification will create the path towards a highly trained workforce.
The production of quality technicians begins with making certain that the educators and trainers in our industry are kept current on new and changing technologies.
The National HVACR Educators and Trainers Conference is an annual conference dedicated to providing continuing education exclusively for educators and trainers in the HVACR industry. The train-the-trainer boot camp consist of concurrent high impact sessions covering: new and changing technologies, changes in federal legislation, energy efficiency, best practices, training techniques that work, and green and sustainable technologies.
The 2010 conference will be held March 14-16, 2010 at the newly remodeled Tropicana Hotel Convention Center in Las Vegas, NV. This year there are nearly forty sessions scheduled, including: Clearing the Air on the Clean Air Act by the EPA, Green & Sustainable Technologies in the Classroom, Refrigerant Update by DuPont, The Impact of a Green ACR Industry, Training Techniques That Work, Geothermal Heat Pump Systems, Green Equipment in the Classroom & Federal Grants for Equipment, Green Awareness Training, Psychrometrics Without Tears, Quality Installation Codes, Being Effective & Having Fun in the Classroom, Carbon Monoxide & Building Pressures, Changing to POE oil with the New HFC's and its Effects on System Efficiency, Combustion Analysis & Fuel Efficiency, Using Computer-based Simulators to Teach Heat Pumps, Using Practical Labs to Demonstrate Abstract Concepts, Thermal Imaging, Accreditation - Assessment - Credentialing, Alternate Water Sources, Commercial Hoods Kitchen Ventilation, DDC Controls and Software for the HVACR Lab, Educator Credentialing, Electronically Commutated Motors, Energy Auditor Program, Evergreen Motors, Fire stopping in Fire-Resistive-Rated Assemblies, Green Round Table, Green Sustainable Technologies Trailer Tour, HVAC Indoor Air Quality Measurements, Latest Advances in Zoning Design & Practices, MRO Roundtable, Practical Plumbing Layouts, Residential Heat Loads, Teaching R-410A, Teaching Heat Pumps, The New Field of Energy Auditing, Testing the First Steps in AC Maintenance, The Synergy Of Green Technology With Whole House Applications, Industry Exhibits, and a Kick Off Event with an Open Bar.
The Federal Government with funding from the American Recovery and Re-investment Act, authorized funding to create a new Energy Auditor Training Program. The government recognized that the current workforce does not contain enough experienced professionals to take under their wings the numbers of new Energy Auditors that the marketplace is demanding. Therefore, the 800-contact hour curriculum has been designed to produce professionals that are able to stand on their own upon graduation. The program consists of 23 individual classes or modules, totaling 800 contact hours. The program can be partially integrated into a training program, or offered as a stand alone energy auditing program. A session covering this new curriculum will be conducted twice during the conference.
This year's keynote address will be delivered by Steven Allen, Director of Green and Sustainable Technologies for the United Association and Vice Chairman of the Green Mechanical Council. Mr. Allen will discuss how HVACR training needs to be redesigned to address the baseline knowledge of the persons entering our industry to work on the current Green technologies. In addition, Mr. Allen will be providing a tour of the Green and Sustainable Technologies Mobile HVACR Training Classroom, allowing attendees to see first hand the ways a building can be more energy efficient and the type of training graduates will need for success.
The conference will open on Sunday March 14, 2010 (4 p.m.-6 p.m.) with registration, industry exhibits, and complimentary drinks sponsored by Hampden Engineering. This is an opportunity to network with others, learn about new training products, and share ideas.
For additional information call 1-800-394-5268 or visit http://www.hvacexcellence.org and click on the conference link.
The 2010 conference is made possible in cooperation with: HVAC Excellence, Green Mechanical Council, ESCO Institute, Hampden Engineering, United Association, Delmar Learning, Fieldpiece Instruments, COSA, Extech, American Technical Publishers, Appion, Goodheart Wilcox, UEI, Uniweld, Testo, NITC, Techsource Tools, Arzel Zoning, Simutech, Genteq, Ferris State University, Lama Books, Pearson Education, Knipex Tools, Cooper Atkins, Vulkan Lokring, Klein Tools, Elite Software, Rectorseal, TABB, Wrightsoft, E Instruments, ECW Motors, TruTech Tools, CO Experts, Coscia Communications, Flir Infrared, MSCA, California Energy Commission, HD Supply, Wenatchee College, Carrier, Suffolk County Community College, IAPMO, Athens Technical College, the EPA, DuPont, The Green Energy Center, Affiliated International Management, ESCO Press Canada, and JB Industries.
Featured Product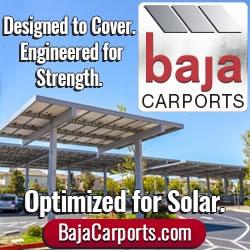 Baja Carports offers an extensive solar support system product line customized to customers' site specifications by in-house engineers, meeting their parking lot coverage, plus optimal PV production needs. Baja's Full Cantilever Tee is often paired with its Semi and Full Cantilever carports to meet live/loads up to 60psf and wind speeds to 160mph. All Baja products are pre-fabricated, bolted connections, pre-galvanized structural steel for fast on-site installation and project aesthetic requirements."