Ferraz Shawmut, a global leader in the field of electrical protection, offers innovative circuit protection products for the commercial solar power industry.
The conversion of solar energy to electricity is a reliable process, as long as it's properly protected. Any installation, whether a stand-alone solar array with a back-up generator set or a grid-connected system, is vulnerable to fault currents or lightning. Fuses and surge protective devices offer the most effective means of protecting the wiring and electrical equipment in a Photovoltaic (PV) system. Fuses protect the cables between strings of modules from overcurrent damage. The faulty circuits are isolated, allowing the system to continue generating power. But that protection must be designed, dimensioned, tested and adapted to the specific features of solar applications.

Ferraz Shawmut offers a dedicated range of protection components specially designed for solar power generation and distribution including, fuses, fuse holders, wire management solutions, disconnect switches, and surge protective devices. Our solutions include:
Combiner Box: 600VDC fuse solutions, 1000VDC fuse solutions, UltraSafe™ class CC & midget fuse holders, Finger-Safe Power Distribution Block, Surge-Trap® surge protective devices, DC-rated disconnect switches
Inverter: 700VDC semiconductor fuses, 1000VDC semiconductor fuses, Square body semiconductor fuses, Surge-Trap® surge protective devices, Modular fuse holders, AC/DC-rated disconnect switches
Main Electrical Panel: 600VAC class J fuses, 600VAC class CC fuses, UltraSafe™ class J fuse holders ,AC-rated fused Disconnect Switches ,Surge-Trap® surge protective devices
Utility: Medium voltage E-Rated fuses, Cable limiters
Download a complimentary solar power circuit protection brochure at http://us.ferrazshawmut.com/oem/resources/literature/SolarPowerBrochure0110.pdf
Ferraz Shawmut also invites solar power professionals to test their knowledge of solar power circuit protection by taking its popular online Protection Intelligence Quotient (PIQ) Quiz at http://us.ferrazshawmut.com/PIQarchive/index.html or download free PIQ Quiz Notes on Solar Power Circuit Protection.
Learn more about all of Ferraz Shawmut's circuit protection solutions at http://us.ferrazshawmut.com, email info@ferrazshawmut.com, or call (978) 462-6662.
About Ferraz Shawmut
Ferraz Shawmut has been a leader in circuit protection for industry and the electrical market for more than 100 years. With a complete line of current-limiting fuses and accessories, Ferraz Shawmut prides itself on delivering innovative, problem-solving products like the Surge-Trap® SPD, Thermally Protected Metal Oxide Varistor (TPMOV®), the FSLBS Load Break Switch, the SmartSpot® open-fuse indicator, Amp-Trap 2000® fuses, and UltraSafe™ fuse holders. Two of the company's latest innovations are its new line of Amp-Trap® High-Speed Class J (HSJ) fuses, engineered specifically for the protection of today's sensitive electronic motor controllers, and the industry's first line of Finger-Safe Power Distribution Blocks (FSPDBs), delivering the ultimate in safety and ease-of-use when making power connections in electrical panels. Ferraz Shawmut, LLC. is a subsidiary of the Carbone Lorraine Groupe. For more information, contact the company by phone at (978) 462-6662 or visit http://us.ferrazshawmut.com.
Featured Product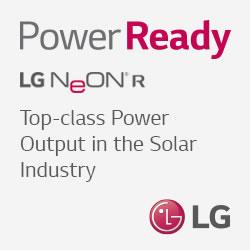 The NeON R module features "Back Contact" cell technology delivering an entirely black panel that is aesthetically pleasing and energy efficient. The cell's seamless, surface blends perfectly into nearly all rooftop designs while the module's electrodes are positioned on the rear of the cell. Using LG's N-type cell structure, the panels produce 365W of energy, up to 7.3kWp, compared to 5.8kWp of the p-type cell. The module's new design minimizes LID, thereby delivering a longer lifespan and increased energy output.