EYE LIGHTING INTERNATIONAL OF NORTH AMERICA, INC. INTRODUCES NEW ECONOMICAL BENCH-TOP SIMULATION SYSTEM
CLEVELAND (Jan 26, 2010) - EYE Lighting International of North America, a subsidiary of Iwasaki Electric Co. Ltd., has announced the introduction of a new bench-top solar simulation system designed for educational and small laboratory applications.

Developed to satisfy educational and industrial customer requirements for an economical bench-top unit, the system is designed to provide excellent performance and application flexibility. The system uses a cluster of four EYE/Iwasaki continuous output reflectorized arc tube lamps that exceed the ASTM/IEC class B spectrum compliance standard. Power is supplied by EYE/Iwasaki electronic ballasts that meet the ASTM/IEC class A temporal stability standard. The bench-top enclosure can handle PV cells or modules up to 300mm x 300mm (12in x 12in). Irradiation uniformity is a function of the target area with class B performance up to 100mm x 100mm (4in x 4in), delivering true IEC Class BBA performance. This simple to use system includes adjustable irradiation power control for greater application flexibility. Since the system employs continuous output lighting, it can also be used for aging and soaking, along with development and performance testing. A programmable timer circuit is included to set a specific test duration period, at which time the lamps will automatically turn off.
The industry leading lamps and electronics used in this system are proprietary EYE/Iwasaki components, and represent over 60 years of applied lighting technology experience.
The spectral compliance of the continuous output solar lamps guarantees accurate and repeatable results. The system capacity and flexibility provides exceptional value.
Page 2
About EYE Lighting NA Applied Optics - Solar Simulation Group:
Eye Lighting NA Applied Optics Group is focused on Solar Simulation and climatic testing applications. In order to create a better global environment, great hopes are being placed on solar photovoltaic arrays (PV) as a future primary renewable energy source. EYE Lighting NA, and its parent company Iwasaki Electric, are proud that their solar simulation lighting systems are playing an active role in the basic research, product development, and manufacturing of new technology PV products. Solar simulation lighting has become indispensable for the efficient development and production of high performance, high quality PV products.
EYE Lighting/Iwasaki Electric designs and manufactures the lighting source (lamps) and proprietary filters in addition to solar simulation equipment. This integrated approach is unique in the marketplace. Any solar simulation system is only as good as the lighting source. EYE systems are designed from inception around the proper lighting source for the particular application, from PV cell development to production test equipment. EYE Lighting / Iwasaki develops and produces a complete range of lighting technology including metal halide, xenon, halogen, UV light sources, and optics equipment designed specifically for solar simulation applications.
About EYE Lighting:
EYE Lighting International of North America, located near Cleveland, Ohio, is a manufacturer and distributor of state-of-the-art High Intensity Discharge and Halogen lighting sources, lighting fixtures and light application system solutions.
EYE Lighting International of North America is a subsidiary of Iwasaki Electric Co. Ltd., a Tokyo based lighting technology company focused on designing and manufacturing lighting products and light-applied system solutions. From new commercial lighting products to UV water sterilization systems, our goal is to employ light technology to create a more comfortable society and sustainable environment.
The shared culture of Iwasaki Electric Company and EYE Lighting of North America represents a world class organization of lighting technology professionals committed to quality, new product development, and complete customer satisfaction. At Iwasaki, we are inspired by light, and the light we create tells our story.
Featured Product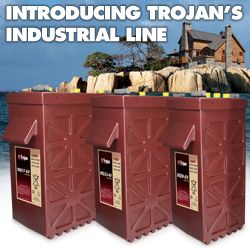 Trojan's deep-cycle batteries provide rugged durability, outstanding performance and long life for use in all types of solar energy installations. With over 90 years of experience, Trojan delivers the world's most reliable and trusted batteries in flooded, AGM, Gel, and Lithium types. These batteries enable solar equipment systems to operate at a peak level of performance in the harshest conditions or the most challenging of locations and are manufactured and tested to IEC standards.