SCPPA Chooses Ice Energy's Smart Grid-Enabled Storage Solution to Permanently Reduce California's Peak Energy Demand
PASADENA, CA - January 27, 2010 - The Southern California Public Power Authority (SCPPA) and Ice Energy, a leading provider of energy storage and smart grid solutions, today announced an agreement to undertake the nation's first utility-scale, smart grid-enabled distributed energy storage project.

The 53 Megawatt (MW) project, to be implemented by SCPPA member utilities throughout Southern California, will permanently reduce California's peak electrical demand by shifting as much as 64 Gigawatt hours of on-peak electrical consumption to off-peak periods every year, reducing exposure to costly peak power and improving the reliability of the electrical grid.
"Ice Energy's solution is a convenient and cost-effective solution for managing peak demand, and aligns perfectly with our Smart Grid initiatives - enabling our member utilities to deliver reliable, competitively priced electric service to their customers in a sustainable, environmentally-sensitive manner," said Bill Carnahan, Executive Director of SCPPA. "By using storage to change how - and more importantly when - energy is consumed by air conditioning, we can offset enough peak demand in the region to serve the equivalent 10,000 average homes."
This groundbreaking agreement also allows SCPPA to enable the expansion of this storage solution for other municipal utilities and agencies in Southern California, representing hundreds of additional MW's, to help meet the challenge of developing of a cleaner, smarter, more sustainable power grid.
Jeffrey Byron, Commissioner of the California Energy Commission, hailed the SCPPA project as critical to helping the State of California meet a key strategic objective: that all utilities consider energy efficiency and demand side management solutions before investing in generation resources to meet demand objectives. "This project includes all of the aspects we look for: managing electrical consumption, improving system efficiency, reducing greenhouse gases, and creating regional jobs for our communities," said Commissioner Byron. "SCPPA is to be applauded for showing how Californians are taking the lead to deploy innovative solutions to meet our energy demands."
By leveraging the higher efficiencies associated with generating and transmitting power off-peak, storing it at thousands of distributed locations, and dispatching it during times of peak demand, Ice Energy's distributed energy storage system represents a transformational new energy solution for the industry.
"SCPPA's selection of Ice Energy's solution is truly a win-win for all stakeholders. Member utilities can better meet their goals to reduce peak demand, ratepayers are protected against the rising costs of peak power, and the growing supply of clean off-peak wind generation can be more reliably integrated," said Frank Ramirez, CEO of Ice Energy. "SCPPA and its members have shown extraordinary leadership at the forefront of reshaping the future of our energy system, forever changing the way we deliver and consume energy in this country."
Installation of the Ice Energy storage systems will begin in the first half of 2010, with deployment scheduled over two years.
-more-
SCPPA/Ice Energy, p 2.
ABOUT SCPPA
The Southern California Public Power Authority is a joint powers authority consisting of 11 municipal utilities and one irrigation district. SCPPA members deliver electricity to approximately 2 million customers over an area of 7,000 square miles, with a total population of 4.8 million.
The Members include the municipal utilities of the cities of Anaheim, Azusa, Banning, Burbank, Cerritos, Colton, Glendale, Los Angeles, Pasadena, Riverside, Vernon, and the Imperial Irrigation District.
SCPPA was formed in 1980 to finance the acquisition of generation and transmission resources for its members. Currently, SCPPA has four generation projects and three transmission projects, bringing power from Arizona, New Mexico, Utah, and Nevada.
ABOUT ICE ENERGY
Ice Energy delivers distributed energy storage and smart grid solutions for transforming energy system efficiency and improving grid reliability.
The company's smart grid platform integrates revolutionary distributed energy storage technology with an advanced software infrastructure and intelligent two-way control to provide utilities with a powerful, cost-effective solution that fundamentally changes peak load management, and improves integration of intermittent, renewable resources onto the grid.
By leveraging the higher efficiencies associated with generating and transmitting power off-peak, storing it at thousands of distributed locations, and dispatching it during times of peak demand, Ice Energy delivers a sustainable new energy solution equivalent to hundreds of megawatts of clean peaking power for utilities.
The company is headquartered in Windsor, Colorado, with offices in Lake Forest and Sacramento, California. For more information, visit www.ice-energy.com.
Featured Product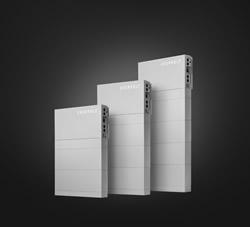 Extract maximum power production from every roof size and shape. HIT® AC Series combines the module efficiency of Panasonic solar panels with the intelligence of Enphase microinverters. A built-in IQ 7X microinverter with Individual MPPT (Module-level Power Point Tracker) tracking helps deliver an all-in-one module that offers design flexibility, reduced installation time, and a higher ROI. Field-replaceable microinverter with no DC wire management required yields lower cost of ownership.